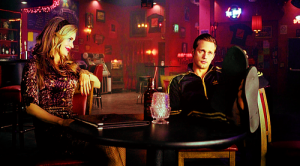 We really hope this happens sometime soon because now that we've heard about it, we think it'll make for one of the best scenes True Blood has yet to come up with. Kristin Bauer van Straten, who plays the lovely bad ass vampire Pam, dished to E! Online's Ted Casablanca that she pitched the following idea to the show's creative team:
"I pitched Pam and Eric singing karaoke, and Eric was singing some really sweet, sappy song and Pam was a backup singer, but we have yet to see that."
Her song of choice? "Only the Lonely" by Roy Orbison. Hmm, it definitely fits Eric's storyline for season 4, but it's hard to picture Alexander Skarsgård belting out an Orbison song. Maybe Marilyn Manson's "Beautiful People?"
What do you think, Truebies? Awesome flashback or new Friday night entertainment at Fangtasia?
Source: Ted Casablanca's The Awful Truth – True Blood's Pam Talks Lesbian Lovin' & Crooning With Alexander Skarsgård
Photo Credit: HBO