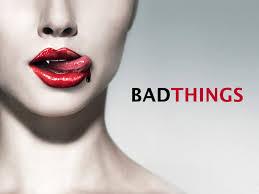 It's nice to see True Blood on a "Best of" list again. This time, once again, the opening credits using Jace Everett's awesome song of "Bad Things" is on a best of opening credits list.
Community EW has made a list of what they believe are the 15 best opening credits for an hour-long premium cable or streaming television series since 1999 (the beginning of television's modern "prestige" era).
The criteria was twofold. Based on the extent to which these credits were:
visually and aurally appealing, and
reflected the time, place, mood, and essence of the show. Credits should put the viewer in anticipation of what it to be seen.
Based on that criteria True Blood's opening sequence came in at #4. 
4. True Blood, HBO 2008–2014
True Blood may have veered off track in its later seasons, but the first chords of Jace Everett's "Bad Things" always struck my brain's pleasure center. The credits do not show any scenes from the show, but do show various images of the Deep South: everything from rotting roadkill to backwoods bars to baptisms to scantily clad strippers. These images, along with the lyric "I Wanna Do Bad Things to You," set the stage for what you're about to experience in the show: sweaty people, scary situations, and lots and lots of sex. The only complaint would be that these credits run a bit long … but to be fair, the show has a ridiculously large cast.
As if you haven't seen them a million times, go to YouTube for one more look.