True Blood's music is always one of it's best assets, thanks to Gary Calamar and his musical choice talents. This year, he has even delivered the great covers like Nick Cave and Neko Case's "She's Not There," Karen Elson's take on "Season of the Witch," and Nick Lowe's "Cold Grey Light of Dawn" (which closed out episode 7 of the show).
All of those tracks (in addition to 15 more) are on the forthcoming compilation True Blood – Music From the HBO Series – Volume 3.
That album, which hits stores on September 6, also features two versions of the excellent theme song "Bad Things." The first is the version by Jace Everett that scores television's best opening credits sequence, and the second (which will be available on the album's Digital Deluxe version) is a delightfully scuzzy re-imagination of the song care of San Francisco rockers Black Rebel Motorcycle Club.
Check out the BRMC version by clicking on the image below and going to the site to hear it.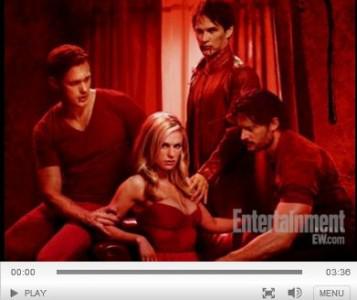 Here's the list of tracks on the True Blood Volume 3 Soundtrack
1. "Season Of The Witch" – Karen Elson featuring Donovan
2. "Me And The Devil" – Gil Scott-Heron
3. "Te Ni Nee Ni Nu" – Slim Harpo
4. "She's Not There" – Neko Case and Nick Cave
5. "Hitting The Ground" – PJ Harvey and Gordon Gano
6. "Spellbound" – Siouxsie and the Banshees
7. "9 Crimes (Demo)" – Damien Rice
8. "Cold Grey Light Of Dawn" – Nick Lowe
9. "Hell's Bells" – Cary Ann Hearst
10. "Gonna Be A Darkness" – Jakob Dylan and Gary Louris
11. "What You Do To Me" – BlakRoc
12. "Paradise Circus" – Massive Attack
13. "And When I Die" – The Heavy
14. "Bad Things" – Jace Everett
Digital Deluxe bonus tracks
15. "Bad Things" – Black Rebel Motorcycle Club
16. "She's Not There" – Dick Isreal And The Soothsayer
17. "She's Not There" – L'Avventura
18. "She"s Not There" – Paper Pilots
source: music-mix.ew.com