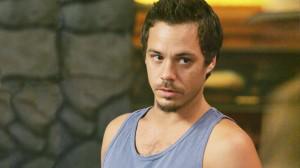 We only saw a glimpse of Michael Raymond James in season 4 of True Blood, but it was enough of a glimpse to realize that regardless of just how evil he was, it was fun seeing Rene Lenier come back to life again. Jason Stackhouse's dead ex-best friend may (for now) be dead and gone from Bon Temps, but he's about to resurface on AMC's popular zombie series, The Walking Dead. James' role hasn't been specified yet, but he'll make his debut in the drama's midseason premiere, titled "Nebraska," which airs on February 12th.
It was recently reported that Michonne – a popular character from the Walking Dead comic – was to make a grand entrance on the show, with rumors swirling that True Blood's Rutina Wesley (Tara Thornton) had been cast in the role. Executive producer Robert Kirkman later announced that the character's appearance was "not confirmed" and that they are definitely trying to work Michonne into the show at "some point in the future."
What do you think James' role will be, Truebies? Let us know in the comment section below!
Source: Digital Spy - 'True Blood' Michael Raymond James joins 'The Walking Dead'
Photo Credit: HBO