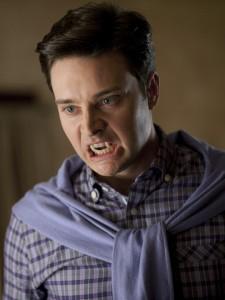 Michael McMillian, who plays vampire Steve Newlin on HBO's True Blood, will be reprising his guest role on TV Land's 'Hot In Cleveland' during the upcoming fourth season.  McMillian plays Owen, the long lost son that Joy (Jane Leeves) gave up for adoption.  Other guest stars that will be appearing on 'Hot In Cleveland' this season are Heather Locklear and Regis Philbin.  No air date has been set for McMillian's episode but we will keep you updated once we know.
Source: MarketWatch.com – Heather Locklear, Regis Philbin, Jay Harrington, Georgia Engel and Michael McMillian To Appear on Season 4 of TV Land's 'Hot In Cleveland'
Image Credit:  HBO, Inc.