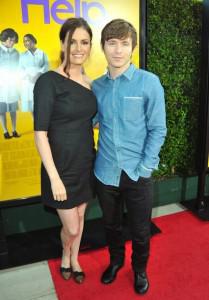 Marshall Allman, who plays Sam Merlotte's brother Tommy Mickens on HBO's True Blood, came out to support former cast mate Anna Camp (Sarah Newlin), and attended the Hollywood premiere of the DreamWorks film 'The Help' on August 9th.  The film is based on the book of the same name written by Kathryn Stockett, and is about African American maids working in white households in Jackson, Mississippi during the 1960′s.  Camp plays Jolene French, one of the friends of the main character Skeeter (Emma Stone).  Watch the trailer below to catch a glimpse of Camp and be sure to check out the film which is in theaters now.
In the video you get a quick look at Allman signing autographs for fans outside the premiere. 
Video Credit: Youtube.com – ClevverMovies
Youtube.com – PopCandiesTV
Photo Credit: Getty Images
Featured Image Credit: Dale Robinette – DreamWorks II Production Co.