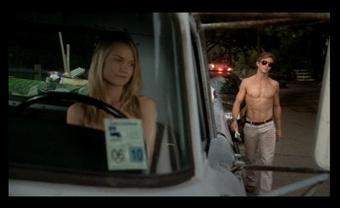 Last season on HBO's True Blood we were introduced to several new characters.  One of the more prominent characters was Crystal Norris, a love interest for Jason Stackhouse, who also happens to be a werepanther.  At the end of the season Crystal was kidnapped by Felton and Jason was left to take care of Hotshot, Crystal's home town.  Lindsay Pulsipher, who portrays Crystal, talked recently with Wetpaint about Crystal, werepanthers and working on True Blood. 
When asked during the interview what the difference is between werepanthers and shapeshifters like Sam, Pulsipher says that werepanthers like Crystal can only turn into one animal and they can only shift during a full moon, whereas Sam can shift whenever he wants. 
One of the earlier Waiting Sucks teaser videos shows Jason on a bed in Hotshot with animal scratches down his chest and Crystal is taking care of him.  Naturally fans of the books would assume that Alan Ball is taking the same direction as the books and having Jason be turned into a werepanther.  In the novels it is not Crystal who actually transforms Jason and Wetpaint asks Pulsipher if she does the deed or if it is someone else.  Her answer is fairly typical of the cast members of the show – giving a tiny bit of information but nothing too drastic.  She says:
"Well, I think the clip you're preferring to is the HBO clip, and it only alludes to the fact that he's being turned into a werepanther, so it's not certain whether or not he is changed or if they're going to follow the books. It's still kind of a mystery."
When asked if she thinks it is a good idea for Jason to be turned into a werepanther after the changes he has been making in an attempt to turn his life around, Pulsipher jokes that she doesn't think Jason can handle being a panther.  We aren't sure he can either!  Imagine the lovable but not bright Jason who was intrigued by the things Sam could do as a shifter in Season 2, transforming himself.   When asked what it is like to kiss Ryan Kwanten, who plays Jason, Pulsipher says that in the moment she doesn't have time to think about it.  They take themselves to a place where it is Crystal and Jason and not Ryan and Lindsay and then they hope the scene works out.  When asked about the rumor that there is some crazy sex stuff involving Jason this season and whether or not Crystal will be a part of that, Pulsipher says:
"You know, it's so hard because we can't disclose a lot of info and spoilers, but it's coming up! [Season 4] is going to be bigger and crazier than ever, which is saying a lot because from day one the show has been big and crazy, but I can honestly say that this season is out of control. It's amazing, so there's a lot to look forward to. The premiere isn't too far away, so hopefully you guys can hold out."
I'm not sure we can hold out – is it June 26th yet??
Turning the discussion to her character, Pulsipher says she has to go to some really dark places when trying to imagine the things Crystal has been through in order to portray her accurately.  With being forced to be in that sad and difficult mindset most of the time, it is a good thing that working on the set of True Blood is a lot of fun.  The cast and crew get along really well and no rumors of drama on the set have surfaced.
Most of the True Blood cast have had to learn accents for their roles and Pulsipher was no different.  She says she watched a lot of You Tube videos and then focused on the very bottom of the totem pole as far as social classes are concerned.  Several of the cast members actually have strong native accents and Wetpaint asked Pulsipher if they go back to their true accents between takes or if they sort of stay in character.  She reveals that pretty much everyone reverts to their normal voices during takes and that she was particularly impressed with Kwanten who switches back and forth seamlessly.
The majority of Pulsipher's scenes have been with Ryan Kwanten and when asked who else she would love to work with on the show, she names Carrie Preston (Arlene Fowler) and Rutina Wesley (Tara Thornton) as two cast members she would really like to work with.
We have heard that this season will focus a lot on identity for all the characters including getting more background on shapeshifters, the witches and the werewolves.  Without giving anything away, Pulsipher does say that they will go a little bit into the origins of the werepanthers and their mythology.
When asked how her Mormon family feels about her being on a show as racy as True Blood Pulsipher says that they are all very happy for her.  Several of her family members are huge fans of the show and she says that while she was raised Mormon – her family is pretty liberal as far as Mormon's go.  Wetpaint asked her how being on True Blood has changed her life and she replied:
"It's really exciting and I feel really lucky to be part of such a huge phenomenon. This is definitely the most visual I've been in my career thus far, and it hasn't really changed much except for that I get recognized on the street now, whereas it was few and far between before. And it's always really amazing when somebody comes up to me and says, "I love the show." That to me is a huge honor and I'm always so excited and I feel so lucky to be a part of it."
Pulsipher reveals that her TV crush when she was growing up was Patrick Swayze, who she had the opportunity to work with on the television show Beast before he died.  She is now working with Patrick's brother Don Swayze on True Blood and she says the two share a lot of the same mannerisms so it is comforting for her to have Don on the set. 
Fans can catch Lindsay in The Oregonian which is currently making the rounds at the various film festivals and she has a few other projects that she will be starting soon.  With filming of Season 4 wrapping soon we imagine many of the stars will be working on new projects during their hiatus. 
Click here to read the entire interview with Lindsay Pulsipher.  Season 4 of True Blood premieres June 26th at 9:00pm EST.  Tune in to see more of Crystal and Jason and follow their storyline.
Source:  Wetpaint.com – Exclusive! Lindsay Pulsipher Dishes on Crystal and Jason's Romance
Photo Credit:  HBO, Inc.