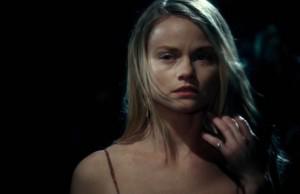 We haven't seen Crystal Norris, played by Lindsay Pulsipher, since the beginning of Season 4 on HBO's True Blood, but you can catch Pulsipher in the History channel's miniseries 'The Hatfields and the McCoys'.  The star studded cast which features Kevin Costner and Bill Paxton, will center on the hostilities between the two clans that escalated to the point of near war between two states.  Pulsipher will play Roseanna McCoy, the daughter of Randall (Paxton) and Sally (Mare Winningham), who falls for Johnse Hatfield and divides the families further.  The miniseries will air in 2012, the 150th anniversary of the feud. 
Source:  HollywoodReporter.com – 'True Blood's' Lindsay Pulsipher Joins History's The Hatfields and the McCoys
Photo Credit: HBO, Inc.