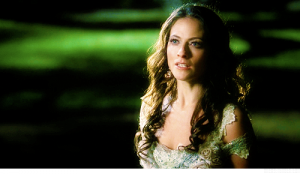 In season 4 of True Blood we didn't get to see too much of Lara Pulver's fairy godmother, Claudine Crane, no thanks to Eric Northman (Alexander Skarsgård). The Viking sheriff may have lost his memory for the majority of the season, but his appetite for fairy blood remained fully intact. Unfortunately for Claudine, Eric overdosed on her scent (and then her blood) and drained her dry. But, don't think that we won't see Claudine again. Pulver spoke with Assignment X about not giving up hope that she might return in season 5:
"It wouldn't surprise me if she appears as some crazy Eric Northman sex dream at some point in season five," she laughs. "I wouldn't put that past Alan Ball at all. I can deal with. If Alex Skarsgård has to eat my neck for another season I can deal with it. We'll see what happens. I have no idea; obviously they don't stay rigid to the books."
What do you think, Truebies? Would you like to see Pulver return for another go around with Eric?
Source: Assignment X – Exclusive: TRUE BLOOD star Lara Pulver would like Claudine the fairy to come back to the HBO series
Photo Credit: HBO