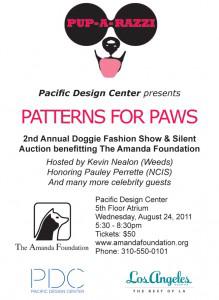 It is no secret that True Blood's Kristin Bauer van Straten (Pam) is a big animal lover.  She routinely attends events which support animals in a variety of ways and she has been a huge supporter of the Amanda Foundation.  Kristin recently confirmed on her Facebook page that she will be attending the Patterns For Paws event, one she attended last year as well. 
The Amanda Foundation is a non-profit animal rescue that has been in operation since 1976.  They rescue cats and dogs that are literally out of chances and they find them forever homes.  The work they do is incredible and they have several celebrities that help to bring awareness to their work.  The Patterns For Paws event is doggie fashion show and silent auction to help raise funds so that they can continue to help save as many animals as possible.  It takes place Wednesday, August 24, 2011 from 5:30pm to 8:30pm at the Pacific Design Center in Los Angeles.  Tickets are $50 and can be purchased at the Amanda Foundation website.  If you are unable to attend but would like to make a donation to help this worthy cause you can also do so through their website.
To find out more information about the Amanda Foundation, to purchase your tickets or to make a donation click here. 
Source:  AmandaFoundation.org
Photo Credit: AmandaFoundation.org
Featured Image Credit: Kristinbauer.net