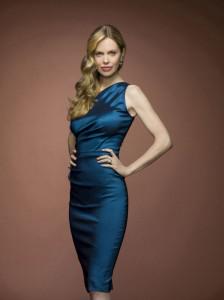 There is no question that True Blood's Kristin Bauer van Straten, who plays Eric's second in command Pam, has some of the best lines on the show in addition to the best wardrobe.  But she is also very popular with the fans and the scenes between her and Alexander Skarsgard (Eric Northman), provide some of the most memorable moments on the show.  Kristin talked recently with Collider.com about what Pam is going through in Season 4, those fabulous one liners that Pam throws out and the possibility of flashbacks in Season 5 that show Pam and Eric's early days together.
In the interview Bauer van Straten reveals that she was not aware that she was auditioning for a show that was based on books when she initially went out for it.  She says that knowing it was a show about vampires, that was being created by Alan Ball and was on HBO, was enough to make her really want the part.  She goes on to say she likes to know as little as possible about her roles before she auditions for them because she doesn't like to fall in love with the part and then be really upset if she doesn't get it.  She learns her lines and then goes in and does her thing and hopes for the best.
When asked if there was a point where she realized that fans of the show were loving Pam as much as fans of the books did, Bauer van Straten says it was a slow process since she tries to avoid the Internet.  She finds it most obvious at appearances and has a lot of fans that come up to her and repeat Pam's great lines.  She credits Alan Ball and Charlaine Harris for the success of the character because of their great writing, however True Blood Pam wouldn't be the same if it wasn't for Kristin's portrayal of her.
We all know Pam has no filter and says whatever is on her mind.  Kristin was asked if it took some getting used to in order to deliver those lines but she says that she goes with her first instinct when filming Pam's lines and that is bolstered by a good working relationship with the writing staff.  She likes that she will sometimes read things that have been written for Pam that make her wonder how it will turn out and then after it has been filmed she sees how well it worked out.  She goes on to talk about her character and methods by saying:
"This year, where I would have thought that Pam would crumble, she goes into fighter mode and kill mode, which I find really admirable. It makes me like her even more. It's extremely fun to play, and hopefully it's really entertaining. Pam is so unapologetic about all of it. She has no worry about being liked. It's fun to play all the distinctively non-human traits. Unless you're a serial killer, you're worried about being liked by somebody. Her obsession with clothing, to me, is just a sign of having not a lot of other worries in life. She's been freed from all the worries of being human – growing old, not having enough money, getting sick and dying – so why not think about your clothing. Clearly, she's the top of the food chain, so all of that is fun to play."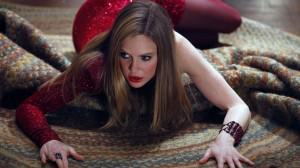 Next up Kristin talks about Pam's wardrobe which can range from pink sweater sets and pearls to barely there leather corsets.  Kristin says she has figured out that the more uncomfortable she is wearing the outfit – the better it will look on screen. 
Now another big thing on True Blood is nudity but Pam is frequently talked about and quoted because of the lines and the way Kristin delivers them.  When asked if she likes being talked about for her lines rather than her nudity, she replies:
"It is! I also take it as a huge compliment on the writers. I just saw something online where it said, "Pam's Top 10 One-Liners," and I sent it to all the writers and said, "Thanks guys, good work." It is really fun! I'd much rather have them quoting me."
One downside to playing a vampire on True Blood appears to be the fans.  Several of the actors from the hit show have said talking with those in really takes some getting used to but some are taking longer than others.  Bauer van Straten reveals that Stephen Moyer (Bill Compton) has the process down pat but that she just can't seem to get it.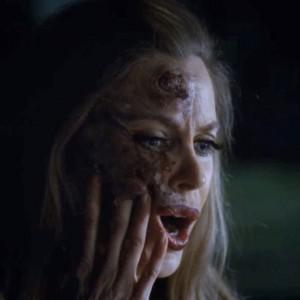 Next up Kristin talks about the changes in Pam this season.  When Alan Ball first told her what was going to be happening with the witch casting the curse on Pam's face, Kristin's first thought was that Pam would be crying a lot.  When Alan told her that Pam was going to be getting angry instead, she got excited and said it was endlessly fun to play.  But one big change this season was that Pam and Eric spent the majority of their time interacting with other people instead of each other.  Kristin was used to filming all of her scenes with Alexander Skarsgard but so far this season they have only appeared together in two episodes.  She says she is enjoying the opportunity to work with the other actors on the show but she misses her maker.  And we miss those fantastic scenes with Eric and Pam!
It is so hard to believe that the season is almost at an end.  Then we have another long nine months to wait until our favorite show is back on television.  So what can we expect for the remaining few episodes?  A lot apparently!  According to Bauer van Straten:
"It's great how far and wide and all-encompassing the witches aim their spells. One thing I love about True Blood is that all the relationships are multi-faceted and complicated, just like our lives. So, Pam's relationship to Eric has obviously shifted, horribly for her. She wants him to be a rock in her life, and he can't be that, as of yet. Her relationship to Bill – and it's so much fun that she hates him, or doesn't respect him – leaves her now having to work with him. And, her relationship with Sookie is very interesting because she is also attracted to her, but Eric doesn't want to share, so Pam is also jealous. It's a fascinating season, with the alliances that are formed and the battles that happen. Where we end up, at the end of this season, is fascinating. Right now, I just can't wait to see Episode 1 of Season 5."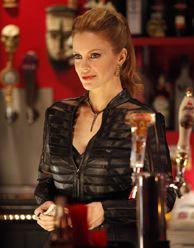 At Comic Con Alan Ball mentioned that during Season 5 we would get to see flashbacks of when Eric created Pam and Kristin says she is very excited to get to work on Season 5 and see how those scenes go.  She says:
"I am excited about the flashback, to see the genesis of my being made. That will be great. At a certain point, everybody gets their flashback of when they were made, and that will be pretty fun. There are so many unanswered questions in my mind about Eric and Pam meeting and beginning. That will be fun. All we have is, "I'm not a hooker," which was a long, long time ago. Was that before her being a vampire? Was that after? And, she speaks with a Southern accent and also Swedish. When you move around, you pick up accents and languages. So, I'm fascinated."
We are anxiously awaiting those scenes as well.  The natural chemistry between Skarsgard and Bauer van Straten makes their scenes together so much fun to watch and exploring their earlier relationship will no doubt make for great episodes.
To read the entire interview with Kristin click here.  Be sure to tune in on Sunday nights at 9:00pm on HBO to watch the final 3 episodes of the season.  It sounds like we definitely don't want to miss them.
Source:  Collider.com – Kristin Bauer van Straten True Blood Interview
Photo Credit:  HBO, Inc.