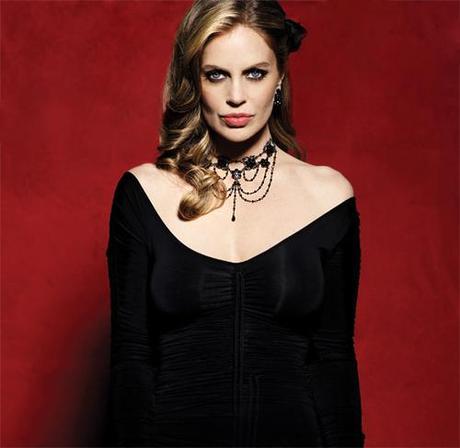 Kristin Bauer van Straten is truly thankful and humble when it comes to her success as vampire Pam on HBO's hit series True Blood. And her hard-work bringing Pam to life is more than impressive; it's truly what talent looks like. Yes, we always gush about how great all the actors are on the show, but it's true: show creator Alan Ball has definitely hand-picked a kick ass cast. Van Straten sat down with Xfinity News recently and gave some inside details about season 4 and what's in store for her alter ego.
Some of the funniest scenes so far this season have included Pam and her maker, Eric Northman (Alexander Skarsgard). Pam's ruthless, unimpressed, and downright cold, and she gets to deliver some of the best lines of the show. But one thing is for certain: she's not a strategist:
"This season really is about identity and showing your true colors. We have every possible situation that we could possibly put Pam in to create chaos and she has to react to it. And she's not a strategist. That was the biggest thing I learned this year: She doesn't play chess, she doesn't think two moves ahead. And theses witches this season are throwing the kitchen sink at a lot of people. It's remarkable the things Pam tries to put order back in her world."
It's odd seeing Pam come unglued by these witches, especially since she so very rarely loses her cool. It's increasingly alarming that a coven of inexperienced witches can wreak so much havoc, which is a bit of a twist from the books (Hallow certainly knew what she was doing, and we all remember how she died, don't we, Bookies?). So what's a vamp to do?
"These witches are a hard opponent for Pam because it's an unseen opponent. She'd be much more comfortable in a bar brawl. But somebody that can affect your world, possibly even from a distance, is very difficult for her, since she's not a chess player. So the spells that they're casting and the chaos they are creating has a pretty wide ripple effect. It really affects a lot more of Bon Temps than you'd think, and people have to form different alliances to try and combat that. We're definitely going to find unlikely alliances this season… We do get to see's Pam animalistic side."
When all is said and done and Pam get's her face back, as well as regains her composure (it has to happen, right?), could a relationship be in the works? Sounds like that's a possible storyline for season 5:
"I think that is in the works, a definite possibility. It would be really hysterical to see Pam try to be in a relationship, I mean I can't even imagine. This year, she definitely has her hands full with her world being turned upside down."
Source: Xfinity – 'True Blood's Scene-Stealing Sidekick Kristin Bauer Promises Pam-demonium!
True Blood Ratings are Bloody Good
True Blood Fan Source.com
A True Blood Fan Site that is the Source for All Things True Blood, for Fans and by Fans.
Home
About Us
Contact Us
Disclaimer
News
Cast
Characters
Interviews
HBO

Photo Credit: HBO

Videos
Photos
Spoilers
Season 4
Waiting Sucks
You are here: Home / News / True Blood Ratings are Bloody Good! Jul 26
True Blood Ratings are Bloody Good!
By Heather Day | News, Season 4
Leave a Comment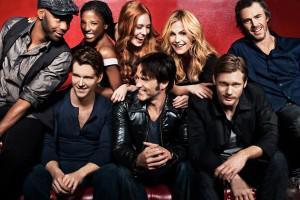 Thanks to all you Truebies out there, True Blood has seen impressive ratings since the June 26th season 4 premiere. More and more humans are inviting the vamp drama into their homes, with 6.6 million total viewers tuning in to watch the premiere, and 6.2 million tuning in to watch this past Sunday's episode.
The first season premiere back in September 2008 was only watched by 1.44 million and the increase between previous seasons has been much higher; the season 2 premiere got 3.7 million and the season 3 got 5.1 million. All of HBO's creative marketing strategies are definitely paying off in a big way.
Thanks Truebies!
Source: Reuters - Cable Ratings: 'Curb' Up 24 Percent; 'True Blood' Hits Season High
Photo Credit: Entertainment Weekly

Print

PDF
Name *
Email *
Website
Our Partners

Add your blog to BuddyTV
Allan Hyde News
Follow TBFS.com on

Categories
Select Category Aaron Perilo Abri van Straten Alan Ball Alcide Herveaux Alexander Skarsgård Allan Hyde Andy Bellefleur Anna Paquin Antonia Appearances Arlene Fowler Behind the Scenes Bill Compton Blackburn Carrie Preston Cast Casting Call Causes Characters Charlaine Harris Chris Bauer Comic Con 2011 Contests Courtney Ford Crew Crystal Norris Deborah Ann Woll Denis O'Hare Dragon*Con 2011 Eric Northman Evan Rachel Wood Events Exclusive Experiences Fiona Shaw Gianna Sobol HBO Holly Cleary Hoyt Fortenberry Inside the Episode Inside True Blood Blog Interviews Janina Gavankar Jason Stackhouse Jessica Hamby Jessica Tuck Jessica's Blog Jesus Velasquez Jim Parrack Joe Manganiello Kevin Alejandro Kristin Bauer van Straten Lafayette Reynolds Lauren Bowles Lindsay Pulsipher Luna Marnie Marshall Allman Nan Flanagan Nelsan Ellis News PaleyFest 2011 Pamela Ravenscroft Pamela Swynford De Beaufort Paola Turbay Photos Podcasts Portia Bellefleur Russell Edgington Rutina Wesley Ryan Kwanten Sam Merlotte Sam Trammell Season 3 Season 4 Season 4 Sookie Stackhouse Southern Vampire Mysteries Spoilers Stephen Moyer Supporting Cast Supporting Characters Tanya Wright Tara Thornton Terry Bellefleur Todd Lowe Tommy Mickens Uncategorized Videos Waiting Sucks