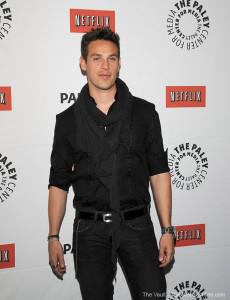 True Blood, Kevin Alejandro recently did a little part on Bones, during a week's hiatus from shooting Season 4.
Earlier this week, David Boreanaz — still remembered for his role as WB vampire Angel — welcomed Kevin to a Tarzana bowling alley to shoot the season finale of Fox's Bones. "I play a guy named Hercules Maldanado, a.k.a. The Tornado," reveals Kevin. "He's a flashy, arrogant man obsessed with bowling, but his skills don't match up. He's sort of his team's dead weight."
Watch for David's Booth and Emily Deschanel's Brennan go undercover as trashy bowlers when the bloody remains of a player in a league Brennan's dad, Max (Ryan O'Neal) plays on is found in the pin resetting machine.
Might Kevin be the killer, considering his character takes the dead guy's place? "Absolutely," teases Kevin. "But everyone in the bowling alley is a suspect. Anyone could have done it. We're some pretty extreme players."
source: tvguide.com