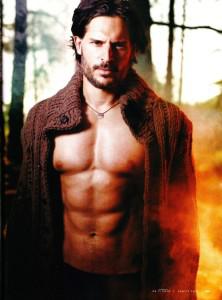 Ever since Joe Manganiello joined the cast of True Blood in season 3 as hunky werewolf Alcide Herveaux, he's always elicited very obvious and very dramatic responses from fans, mostly in the form of long sighs, a flushed face, and the need to fan oneself. Yes, he's handsome. He's smoking hot. Some would even say he's drop dead gorgeous. And who wouldn't want to see even more of what he has to offer in season 4? Joe recently chatted with MTV about how much skin he'll flaunt this season:
"Well, I think I'm shirtless or naked three out of seven (episodes)…so, if that's in baseball terms, three out of seven is like hall of fame numbers."
There's a little more hotness in the video below. Are you ready, Truebies? We are. Oh, we are so very ready… True Blood season 4 premieres on HBO June 26th!
Tags: MTV Shows
Source: MTV- 'True Blood' Star Joe Manganiello Talks Season 4 Shirtlessness (Lots Of It!)
Photo Credit: Vanity Fair