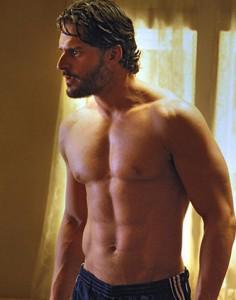 The True Blood cast often shoots their scenes in various stages of undress and Joe Manganiello, who plays Alcide Herveaux, is generally seen shirtless at a minimum.  It looks like Manganiello will be stripping down for yet another role, this time playing a stripper by the name of – wait for it – Big Dick Ritchie – in 'Magic Mike'.  The film, which will be directed by Steven Soderbergh, is loaded with some of Hollywood's hottest stars including Channing Tatum, Alex Pettyfer, Matthew McConaughey and Matt Bomer.  Loosely based on Tatum's early days as a stripper, the movie will follow the relationships of a group of male strippers with a focus on the mentor-like bond between Tatum and Pettyfer's characters. 
Bomer and Manganiello attended school together and recently shot an episode of 'White Collar' together as well.  Filming is set to begin in September and the flick will hit theaters in 2012.  We are sure there will be plenty of female fans lining up to see this one!
Source:  Collider.com – Joe Manganiello, Jessica Biel and Riley Keough Join Steven Soderbergh's MAGIC MIKE
Photo Credit: HBO, Inc.