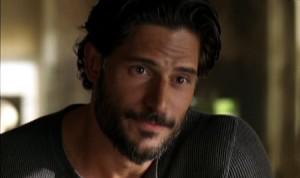 True Blood fans have to wait a little bit longer before we get to see our favorite hunky werewolf Alcide Herveaux but Joe Manganiello has been keeping busy.  He is set to appear on an episode of 'White Collar' where he will play a recently released ex con who brings trouble to the neighbourhood when he moves in across the street from Peter (Tim DeKay) and Elizabeth (Tiffani Thiessen).  Manganiello will appear in the second half of the third season which will air next January. 
Source:  Insidetv.ew.com – 'True Blood' hunk to guest on 'White Collar'
Photo Credit: HBO, Inc.