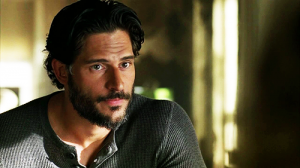 Joe Manganiello (Alcide Herveaux) joined the cast of 'What to Expect When You're Expecting' back in early July, a romantic comedy that is already getting a lot of buzz. The film, which is based on the popular pregnancy guidebook of the same name, stars Cameron Diaz, Jennifer Lopez, Chace Crawford, and Chris Rock. Manganiello talked to The Hollywood Reporter about his new role as a jet-setting single guy the local dads begin to envy:
"The script was really fun and there were some fantastic A-List people attached to it. So, I get to work with some of those people and a lot of my stuff is with Chris Rock, who I am huge fan of and I quote his standup constantly. So, that in and of itself is fun."
Manganiello went on to say:
"I play the perpetually single, sunbathed, world-traveling, surfing photographer, who hangs out at the park where they have their support group and they basically worship this guy."
It'll be great to see Manganiello go back to his comedic roots, which is almost all he did before joining True Blood's third season. 'What to Expect When You're Expecting' is currently scheduled to premiere Mother's Day weekend, May 2012.
Source: The Hollywood Reporter – 'True Blood's' Joe Manganiello Talks His New Movie, 'What to Expect When You're Expecting'
Photo Credit: HBO