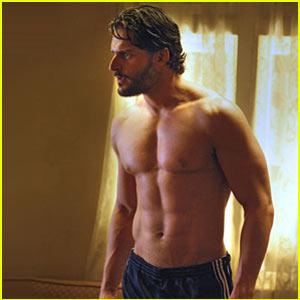 With the Olympics in full force in London right now, E! Online took this opportunity to ask several celebrities about their Olympic dreams and which sport or sports they would compete in.  True Blood's Joe Manganiello (Alcide Herveaux) was asked this question and given his insanely fit body, his answer should come as no surprise:
"I would be a decathlete. I played three sports growing up, I play sports year-round. I have kind of an eclectic set of skills."
Other celebrity answers included Julianne Hough who said she would love to compete in gymnastics, Ginnifer Goodwin who revealed that she would love to do figure skating and Chord Overstreet who says that he would love to compete in swimming.  Click here to reveal all the stars answers.
Source: Eonline.com – Celebrities Olympic Dreams!
Image Credit: HBO