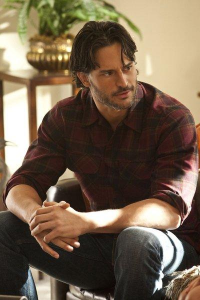 True Blood's Joe Manganiello (Alcide Herveaux), who is enjoying the recent success of his fim 'Magic Mike', is currently in talks to join another movie with a lot of star power behind it.  According to The Hollywood Reporter, Manganiello is set to reunite with his True Blood sister Janice (Dawn Olivieri) in Arnold Schwarzenegger's "Breacher".  The action thriller, also starring Sam Worthington and Terrance Howard, follows 10 DEA agents who start dying one by one, after pulling off a heist during an enforcement operation.
Manganiello will play Grinder, who develops a conscience and trys to contact the police.  Shooting is set to begin in October and no release date has been set.
Source:  TheHollywoodReporter.com – Joe Manganiello in Talks to Join Arnold Schwarzenegger in Action Thriller 'Breacher'
Image Credit: HBO, Inc.