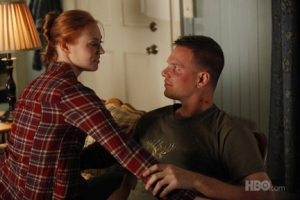 Earlier today we posted a nearly nine minute video montage that Extra aired yesterday, which gave us a peak at some major True Blood spoilers. In one specific scene we get a glimpse of Jessica Hamby (Deborah Ann Woll) and Hoyt Fortenberry (Jim Parrack) getting into a bit of a dispute over who should do the cooking for dinner. How often does this happen in normal everyday life?! Yet, Jessica and Hoyt are not your normal couple, which makes the scene lack the heartbreaking awkwardness that normally accompanies such a domestic argument, and gives it a punch of humor that usually follows Jessica around. Even better? Woll and Parrack admit that they had a blast filming the scene. TV Line talked to both actors about how the scene played out, and Parrack claimed that "once the eggs came out [it was all over]. I flicked the eggs in her face and we had an egg fight."
Woll went on to say that:
"A couple of people came up to us after they saw that scene and were like, 'It was like mommy and daddy were fighting.' They couldn't handle it…We got very messy that night. I think what made the [final cut] was a cleaner version, but we were covered [with egg] by the end of that shoot."
Parrack says it was inevitable that the young lovers would hit a few speed bumps on the road to domestic bliss:
"You put together a guy who's never had a girlfriend and a vampire — a new vampire — and you get all kinds of domestic trouble."
Missed the clip the first time around? Check it out here. We definitely can't wait to see what else happens to these two in season 4!
Source: TV Line – True Blood Video Sneak Peek: Jessica and Hoyt Do Battle Over [Spoiler Alert]!
Photo Credit: HBO