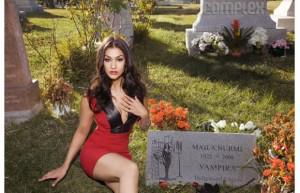 True Blood's newest shapeshifter, Janina Gavankar (Luna), has brought some more mystery and intrigue to Bon Temps as Sam's new love interest. It doesn't hurt that she's gorgeous, with Angelina Jolie lips and a killer figure, so she definitely fits right in with the rest of the cast. Complex Magazine got the dark beauty to play a game of "would you rather", where she admitted that she'd rather live forever than have one more week to live (sounds very vampiric of her):
"I want to see what technology's going to be like in a few hundred years, if the human race hasn't completely obliterated itself by then. I'm hoping for teleportation, so I don't have to deal with jet lag, and I'll probably be the first person to sign up to have a phone implanted in my hand."
She also said she'd rather control someone than be controlled:
"I'd make them do the laundry and shop for groceries so I could play video games. I've had zero time to play video games as of late, so I really miss them. I'm so behind that it's embarrassing, especially for someone who calls herself a 'gamer'."
We're not sure how her fellow shifters are going to feel about this one, but if she had to choose, she'd go with Dracula instead of the Wolfman:
"I think, at least in mythology and lore, it seems as if Dracula is more in control of his emotions and his craziness. He's smart and he has great taste and style. You know what? I'd be afraid that I'd be allergic to the Wolfman."
To read Gavankar's interview in its entirety please click here or grab the June / July issue of Complex Magazine, which is on newsstands now. Make sure to check out the great behind-the-scenes footage of her interview below.
Source: Complex Magazine – "True Blood" Star Janina Gavankar: The Complex Interview, Gallery, and Video
Photo Credit: Complex Magazine