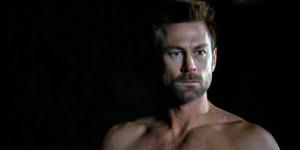 Playing a werewolf pack master serving the King of Mississippi sounds like an exotic enough role, but when your name is also Cooter, well, that just adds another level of awesome. And the man behind Cooter, Grant Bowler, loved every minute of his stint on season 3 of True Blood. He gushed to The Sydney Morning Herald last month that True Blood – the characters, the cast, the crew, everything – is "honestly like a love in". However, sadly for Bowler and Cooter, season 3 took Coot's life (well, technically Alcide took Coot's life with a bullet to the head), but Bowler isn't too phased by that fact. He thinks that maybe, just maybe, Coot could rise from the dead:
"There's always a chance that Cooter may come back from the dead but I'm not telling you whether he does or he doesn't. Alan Ball (the show's creator) is the cleverest man I've ever met and I'm not alienating him for anybody."
Considering Bowler had such an amazing time being part of the True Blood family, we can't blame him for holding out hope that his character could return:
"It was good fun that one. I made a lot of really, really good friends, who are still really, really good friends and had a ball doing it. So when you can go to work and do that. That's pretty cool… You're working with people you just dream of working with and everybody is bringing the best that they've got to the table and challenging each other every day of the week. It would be very, very difficult to find something more exciting than True Blood."
Another thing Bowler thoroughly enjoyed was playing the bad guy. He's had his share of bad guy roles in the past, which isn't a coincidence. Bowler steers clear of the good guy who can do no wrong, mostly because he finds those roles boring. He seeks out characters that have "edges" on them:
"For my money if I'm playing anything then it has to have some sharp angles on it. It's got to have some edges that you can cut yourself on, otherwise it's boring."
Read Bowler's interview with The Sydney Morning Herald in its entirety here. We'll find out soon enough if Coot returns to season 4 – only two weeks to go until the premiere!
Source: The Sydney Morning Herald – Local Actor Spills on True Blood
Photo Credit: SciFi Mafia