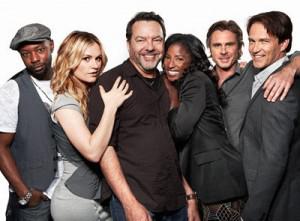 In the most recent issue of Rolling Stone magazine, Alan Ball talks with writer Doree Shafrir about what's in store for our favorite supes and humans in True Blood season 4, as well as drops a pretty significant bomb regarding his future with the show:
"I am negotiating for a season past this one, but I don't believe True Blood is 100 percent dependent on my participation. It has a very strong following and a really strong cast, and there could be a future where I step back and the show would continue."
True Blood without Alan Ball? That would be preposterous! Sure, the show has an amazing fan following and an amazing cast, but there's no denying True Blood is what it is today because of Ball's incredible creative genius (well, that and Charlaine Harris' incredible imagination!). What do you think, Truebies? Can you imagine a True Blood without Alan Ball??
Rolling Stone also chatted with Stephen Moyer about what his character, Bill Compton, will be up to in the season of the witch:
"There's some great historical flashbacks this season. We go way back in history in order to move the story along. There's a quite surprising flashback that takes Bill back to a place where I really wasn't expecting him to have been."
The June 23rd issue of Rolling Stone magazine is on newsstands now.
Source: Rolling Stone – The Season of the Witch
Photo Credit: Simply Moyer