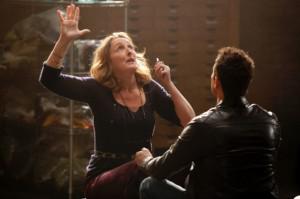 One of the most anticipated newcomers to Season 4 of True Blood was Fiona Shaw, appearing as Marnie Stonebrook.  Best known for her role as Aunt Petunia in the Harry Potter movies, Shaw talked recently with Wetpaint.com about Marnie, Alan Ball and the showdown with vampires vs witches. 
Shaw tells Wetpaint that we will see some big changes in Marnie.  When we first meet her she is a mousy character who doesn't say much but that quickly changes as she taps into a source that is more powerful than her.  Shaw says she was very excited to be asked to do True Blood because it was something very different from what she had been working on.  While she had not really been exposed to the show before she went to audition, she caught up on al three seasons in two weeks.   When asked how True Blood is different from other movies and shows that she has worked on Shaw says:
"Well, one of the great things about True Blood is you get to speak a lot. They're very unlikely to cut your scenes in True Blood, because it is written in way that is then filmed and timed to take on everyone's performance. So the scariest story-lines that you're being offered every week are genuinely performed, rehearsed, performed and shot in every direction to make them as exciting as possible. In that way, it's not like film, it's much more like theater — where you're in some control of what you say. But it's not like theater, because you have no idea what's going to happen in two episodes down the road. On the one hand, your loquacious and you have opportunity to act things, but you've got to make sure its not in profound contradiction to what's going to happen in two episode's time!"
Shaw says that Alan Ball is very present on the show and that he is always available if you have a question or a problem and when he has written the episode, which he only did one of Shaw's, he is on set during the entire filming. 
When asked what she likes most about Marnie, Shaw tells Wetpaint that she likes that Marnie is very ordinary.  She did not have a lot of opportunity in her life and Shaw felt sorry for someone like Marnie who had such a large imagination with no chance to explore it.   Fans of the books will no doubt remember that Marnie had a sexual attraction to Eric and that was one of the issues leading up to the curse which caused his memory loss.  When asked if Marnie will be attracted to Eric on True Blood as well, Shaw says:
"Something much more elaborate has been concocted for this. It's certainly about love, but I think it's more about love of power. Almost a neurotic love of power. And maybe about identity. I think if Marnie's about anything, she's about someone trying to find their identity. In reaching for identity, you are able to find parts of yourself you were well-off without. So it's much more in that way narcissistic, maybe, than it is about Eric and her. I wish I could tell you more, but I'm going to not tell you about it! I have to say, I've enjoyed the complexity of what I play very much. It's been very hard to play. I play someone who is from Louisiana and then gets very involved with Spanish 17th century witchcraft. It's quite elaborate and there's a lot of Latin."
When asked if we will be seeing Marnie in Season 5, Shaw reveals spoilerish information.  She says that she would love to come back, if they could find a way to bring her back and that it would take a lot of magic to bring her back.  Hmmm does that mean Marnie will be killed off?  We know Marnie is killed in the books and it sounds as though this will be happening on True Blood as well. 
To read the entire interview with Fiona Shaw click here.  Be sure to tune in to HBO Sunday nights to keep up with with Marnie is up to next!
Source:  Wetpaint.com – Fiona Shaw Dishes on True Blood Witches, the end of Harry Potter
Photo Credit: HBO, Inc.