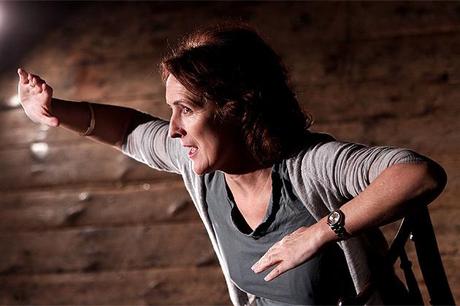 Fans of the Harry Potter series will no doubt recognize new character Marnie in Season 4 of HBO's True Blood.  Actress Fiona Shaw played Aunt Petunia in the popular film series and is now set to play a witch in the upcoming season.  Shaw can also be seen in the upcoming 'The Tree of Life' directed by Terrence Malick and co-starring Brad Pitt and Sean Pitt.  The film centers around a family with three boys in the 1950′s with the oldest boy witnessing a loss of innocence.  Shaw plays the grandmother to the boys.  Empireonline.com recently talked with Shaw about the movie and how it all came about. 
When asked what 'The Tree of Life' is about, Shaw does not give anything away saying:
"I can't tell you entirely what it's about because it's about everything – it's about a family and it's about time and space. He's using the movie, of course, very filmically, which is how it should be used: not to tell a life story but a story that really stretches over decades and beyond."
According to Shaw, Malick called her up and told her he was working on a film and asked if she would be involved.  He then shocked her saying that he wanted her to write her own part, and while filming he gave her an incredible about of leeway asking her where she wanted to film.  Adding to this unique experience, was living in a house right next door to Angelina Jolie, co-star Brad Pitt and their children.  During the day the houses they lived in would form part of the set. 
Shaw describes Malick's process saying she thinks he films a bunch of films and then takes the pieces to fit to the idea he has in his mind.  She says:
"What he's looking for is the accident: he wants the accidents to happen. I suspect he throws out a lot of magnificent work. I wonder how he cuts down major characters. I originally spoke more than any other character and I have no doubt I'm in it for two seconds but I hope it'll be the best of the two seconds that served him. He's like a Renaissance painter."
When asked what makes Malick tick, Shaw says that he does not have an ego of any sort and that he is chanelling something great.  He likes hanging out with the cast and he worked for years getting this film done. 
Empireonline.com asked Shaw what she would tell audiences who are going to see this film and she replied:
"You have to come to it with an open heart because I don't think he's necessarily trying to please us. It's probably a portrait of his family, probably a portrait of America. He's an amazing man. He's got that this heat that comes of him and when you're with him you just want to lurk all day. Few people have that."
From the trailer, which you can watch below, you can see that the film looks like an incredible journey.  Although you don't get to see her, you still get a great idea of how fantastic the film will be.  It is scheduled to premiere at the Cannes Film Festival and will have a limited release in the United States on May 27, 2011.  Let us know what you think of the trailer in the comments section below.
Source:  Empireonline.com – Fiona Shaw Talks Trees of Life
IMDB.com – The Tree of Life
Photo Credit:  Empireonline.com
Video Credit:  Youtube.com – TheMovieReel