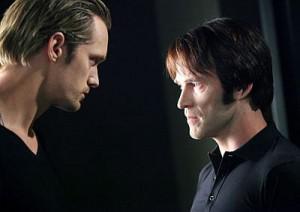 Alexander Skarsgård, who plays the intense viking sheriff Eric Northman on HBO's True Blood, sat down with Syfy Germany to chat about his sexy character, the fans, and the bickering dynamic between Eric and Bill Compton (Stephen Moyer).  While the interview isn't necessarily recent (it happened back in October), we couldn't help but share the clips, mostly because we welcome any opportunity to cure our True Blood withdrawals. So, what about that pesky relationship between Eric and Bill? How exactly does Eric feel about his younger fellow vampire?
"Eric, um, he finds Bill very cute. He's very sweet and…he's not even 200 years old…and he's very naive, Bill, and he's a little kid to Eric, and Eric's having fun teasing Bill and kind of toying with him. But there's also respect there, absolutely."
There's one thing that Alex doesn't do in his limited spare time and that's peruse the True Blood fan sites or blogs, and it's definitely not because he doesn't appreciate his fans, but mostly because of his sensitive ego:
"I don't read the blogs or the fan sites or comments and all that stuff because if I read something negative I know that I'll remember that and think about it, and if I read something positive, my ego will just explode…"
Check out the short clips below for some Alex eye candy.
Source: Syfy Germany
Photo Credit: Technorati