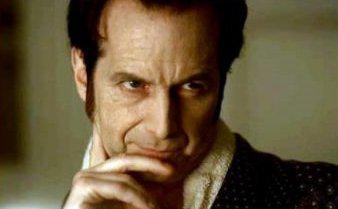 Right now the vampires in Bon Temps are planning a revolution and surprisingly Russell Edgington, played by Denis O'Hare has risen to the upper levels of vampire politics.  O'Hare has brought a new playful, flirty side to Russell since he was rescued from the ground and he has been completely entertaining to watch.  We get the impression though that Edgington really couldn't care less about Lilith or all of the stuff that comes along with "her" but he's simply going along because that is where his best interests currently lay.  O'Hare is currently appearing in the musical 'Into The Woods' in New York, and he put himself in 'The Hot Seat' to answer some questions for Timeout.com.  In the article O'Hare really shows his paternal side when speaking of his son and he speaks about the production, his favorite childhood fairy tales, and of course True Blood.
'Into The Woods' is a fairytale that looks at what happens after happily ever after and The Hot Seat asks O'Hare what his favorite fairy tales were growing up.  Surprisingly for someone who seems so full of life and optimism, he reveals that his favorite fairytale was Oscar Wilde's "The Selfish Giant" but he also liked Wilde's "The Nightingale and the Rose".  He was drawn to the fairy tales because he loved tragic things as a child and these fit the bill.
The musical is about a couple that is trying very hard to have a child and O'Hare says the fact that he has recently become a father to the child his husband and he are fostering, actually made the part more challenging for him.  His character is not supposed to be comfortable holding a child, but since he is now an old pro at handling an infant he had to essentially unlearn that skill.  When asked what the hardest part of the role is he replied:
My biggest struggle with this role has been the fact that the Baker is so willing to abandon his son, and that's really hard for me. I think that any actor can imagine things and play things. For instance, I don't need to experience what it is to suck blood to be a vampire.
Denis goes on to say that he has a hard time with his emotions during those scenes because it is not an intellectual process.
Moving to True Blood, O'Hare says that he was aware a long time ago that Russell Edgington would be back.  He says Alan Ball told him when he hired him for Season 3 that Russell would be buried but that he would "probably" survive.  This new Russell seems different from the Season 3 Russell and O'Hare has this to say about it:
Well, I think it's an interesting idea that Russell is transformed. He's definitely the same guy, but he's got some different stuff going on. Oddly enough, he's funnier—but he's also a little crazier.
'Into The Woods' is playing until August 25th and tickets for the shows are free.  Click here for more information.
Source: Timeout.com – The Hot Seat: Denis O'Hare
Image Credit: HBO, Inc.