Cooper Huckabee may play a character with very few redeemable qualities on HBO's hit vampire drama True Blood, but in real-life, Huckabee is easy to laugh, gracious, appreciative, and very easy to talk to. So unlike his True Blood alter ego, Joe Lee Mickens! Joe Lee isn't a very smart man, it's obvious that he only thinks of himself, and talking to him isn't at all something you'd probably want to do voluntarily. Huckabee's portrayal of him is so fantastic, so spot on, and yet, Huckabee admits that he really had no back story to help him bring Joe Lee to life. Huckabee sat down with Barbara Henderson of Skarsgardfans.com and talked at length about acting, Joe Lee, and what's next for him outside of True Blood.
Joe Lee's most memorable scenes in season 3 are probably the ones where he's wearing just his saggy underwear. And he got to show off his untidy whiteys more than once, but regardless of how, well, gross this was,  it was so perfectly Joe Lee that it was hard not to love the brilliance of it (and apparently it was creator Alan Ball's idea to have him wear the not so clean undies). Rather fittingly, one of his acting professors gave him some words of wisdom: when all else fails, drop your pants. Well, Huckabee has certainly taken that advice to heart. He says that sometimes he'll be getting dressed and he'll stop and think "now wait a minute, you don't want to look like Joe Lee Mickens here," prompting him to take a longer look in the mirror. So what else does he think about the unlikable Joe Lee?
"I think he's human, but I just think he's very dysfunctional, very misguided and is in need of some major therapy."
We'll get to see what Joe Lee has been up to in tomorrow's episode "I'm Alive and On Fire," and Huckabee indicates that his return is going to be very thought-provoking. Apparently there will be a fairly intense confrontation between Joe Lee, his wife Melinda (J. Smith-Cameron), his youngest son Tommy (Marshall Allman), and his oldest son Sam (Sam Trammell). It also sounds like Huckabee has several spoilers that he is willing to reveal, but decided to hold off until after he finds out just what he's able to divulge.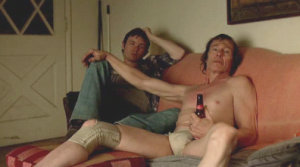 Huckabee had nothing but glowing things to say about the cast, the crew, and the writers of the show, indicating that "these writers are smart!" He admits that, even though he has a supporting role, Alan Ball was right when he said that this is not an easy show to do. The days are very long, the acting is intense, and even though there are no rehearsals, the preparation is very thorough. And yet, no one lets any of it go to their heads:
"The cast is such an ensemble cast that there's not room for a lot of egos…everybody has a storyline… Everybody just concentrates on doing their part… Alan mentioned in his introduction at the premiere that he wanted to thank everyone for not being a prima donna. He was speaking for everybody, I think."
Huckabee's next project is Thrift Store Cowboy, which is currently in post-production. You can also see him in a couple other cowboy flicks, Urban Cowboy and Space Cowboy, as well as Gettysburg and Criminal Minds: Suspect Behavior.
Check out Skarsgardfans.com's more than 20 minute interview with Huckabee here. He really does come across as such a sweet and lovely man, who adores his True Blood family and fans.  And he sounds like he wouldn't be caught dead in untidy whiteys.
Source: Skarsgardfans.com – Interview with Cooper Huckabee "Joe Lee Mickens" from True Blood
Photo Credit: Eric Schwabel, HBO