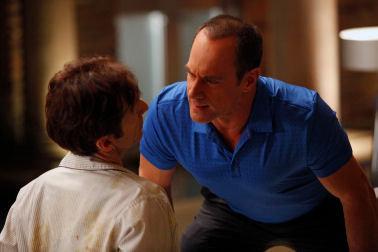 Warning: this article contains spoilers.  If you have not yet seen Episode 6 which aired July 15th you may not want to continue reading!
True Blood and Christopher Meloni fans were left hanging at the end of Episode 6 when Roman was apparently staked by Russell Edgington.  We knew something big was going to happen when we saw Nora (Lucy Griffiths) rocking in her cell and telling Eric (Alexander Skarsgard) that tonight was the night but I don't think anyone saw this one coming.  Especially with Meloni appearing at Comic Con that same weekend!  So is he dead or isn't he??  Meloni won't say definitively as is the case for all tight-lipped True Blood stars but he tells TV Line: "For the time being, he's dead.  I think that was my swan song."  For the time being?  Doesn't necessarily sound permanent but one can never know with True Blood!
After leaving his previous show Law and Order: SVU, Meloni gained a lot of attention when he signed on to join the cast of HBO's True Blood.  As the Authority's leading member we assumed he would be around at least the entire season if not more, especially since he was billed as a series regular, but apparently the powers that be had other plans.  Although his stint on the popular show was short, Meloni insists he enjoyed it saying:
"I think part of the success of the show is what you are truly seeing is actors who are happy and really enjoying what they're able to do.  I fit right in with them."
If you have to go you may as well go out in style like Roman did and Meloni says there is no one he would have rather been staked by than Denis O'Hare.  He was particularly jealous of the parting line Russell delivered and wishes he could have been the one to say "Peace is for p—ies."
Although his True Blood days "may" be over, Meloni is hard at work on a new film entitled 'They Came Together' with Amy Poehler and Paul Rudd.  In the film he will play the CEO of candy corporation.  No release date has been set.
Let's hope True Blood takes a page out of The Vampire Diaries books and allows a powerful vampire to stay "alive" but unmoving when the stake stays inside.  One can dream!  Let us know what you think in the comment section below – is he dead or isn't he??
Source:  TVLine – Chris Meloni Speaks Out About Sunday's Shocking…
Photo Credit: HBO