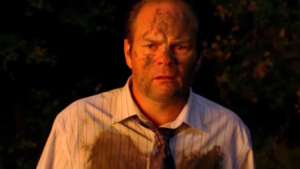 You all know what tonight is, Truebies. With the countdown to the season 4 premiere ticking loudly in our heads, we are more than ready to see where this season is going to take us. And even more exciting? True Blood's Chris Bauer (Andy Bellefleur) revealed to the New York Post last week that season 4 is an especially great year for the fans:
"It's just a really nice kind of ideal combination of all the highlights of the first three seasons – in terms of story, character and sensibility. There's some great twists where people you've come to know a certain way reveal something about themselves that are genuinely surprising. It's one of the glories of making it to the fourth season – we can start to play with your expectations of the characters and really surprise you with where they go."
Bauer may fly below the radar when it comes to standing out among the rock solid abs and amazing muscles that stick like glue on several of the male actors on the show, but he certainly stands out when it comes to adding a punch of comedy to a scene (who can ever forget Andy's angst over the "pig!" in season 2?). With that voice, that southern drawl, and a big hearted goofball personality, Bauer has made Andy one of the most enjoyable characters to watch on the show. So, how did Bauer come up with his version of Andy? 
"It's funny — everything I do in terms of character traits is very intuitive but always last minute. Andy's voice came from shooting the pilot. We went to rehearse with Ryan Kwanten, who I'd just met, and couldn't believe what he looked like. Dude is 160lbs, less than zero percent body fat, has perfectly but naturally lit hair. I literally growled in disgust – "uggggggggh" – and that's where the character came from. Andy is so unbelievably jealous that he can barely mumble anything, because he's just dying to scream, 'mrrraaaagh, I want that body!'"
Season 3 ended with Andy being romanced by V juice, and it was very much implied that Andy, who we know struggles with alcohol addiction, was going to give into his urges. So, does he?
"Yes, I think they (the fans) would be on the right path because we've established that he's an addict and the nature of an addict is that they're always an addict. One day at a time is very true and every day is different…One of the things that's super interesting to me is that given the amount of supernatural chaos Andy encounters on a daily basis, none of those circumstances fuel his addiction. It's his emotional discomfort and struggle to be a human that leads him to those problems, which is a great irony."
Check out Bauer and the rest of your favorite True Blood cast members tonight on the season 4 premiere at 9PM EST!
Source: New York Post - Chris Bauer: Get ready to change your expectations of every character!
Photo Credit: HBO