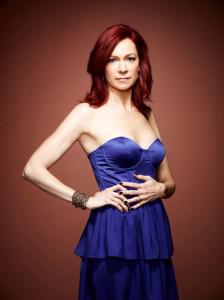 Carrie Preston, who plays Arlene Fowler on HBO's True Blood, has signed on to direct a benefit reading of OUR DAVID, which will star Denis O'Hare (Russell Edgington) and Sloane Shelton.  The show will benefit The Hetrick-Martin Institute, Home of the Harvey Milk High School and will take place July 7, 2011 at 8:00pm at the Samuel Beckett Theatre in midtown Manhattan.  The show starts at 8:00pm and lasts approximately 70 minutes.  The suggested donation for tickets is $20 per person.  Click here to purchase your tickets or for more information. 
The Hetrick-Martin Institute was founded in 1979 and creates an environment for lesbian, gay, bisexual, transgendered youth between the ages of 12-24 and their families.  For more information on this organization click here. 
Synopsis: 

Set in small-town America, OUR DAVID follows uneasy neighbors Velma and Clyde. Velma is a widowed grandmother and longtime resident. Clyde recently moved to town from New York City, looking for solitude after losing his lover and most of his friends to AIDS. The two widows quickly learn to distrust one another, and express it in a series of tragic and hilarious alternating monologues. That is until a tacky statue of Michelangelo's David surprisingly brings them together.
Source:  Broadwayworld.com – Carrie Preston to Direct OUR DAVID Benefit
Photo Credit:  HBO, Inc.