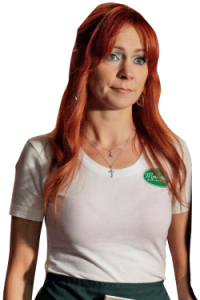 Poor Arlene has had a rough go of it.  Finding out she was pregnant during Season 3 of HBO's True Blood definitely rocked her world but when she did the math and realized her deranged pyscho ex Renee was the father - well that almost did her in.  She prayed for a miscarriage and even asked newcomer Holly for help to lose the baby, but now that Mikey is here Arlene is conflicted.  It is clear she loves her little guy but at the same time she knows with her mother's intutition that there is just something not right about that baby.  So what does Carrie Preston, who plays Arlene, think of this storyline?  She recently spoke to NY Mag about ghosts, her favorite television redhead, her husband and other projects she has worked on.
First up Preston is asked if she believes in ghosts.  Her reply is that she does believe there is a spiritual element in the world but she says she has not yet personally had any experiences with them.  Speaking of ghosts, in last week's episode Lafayette is possesed by a ghost and kidnaps Arlene's baby Mikey but Arlene forgives Lafayette.  Preston says that since the fire, Arlene has realized how much she loves the little boy and is now determined to do anything she can to protect him.
There have been several famous redheads on television and Preston is asked how much of an influence Lucille Ball had on her.  Her reply was:
Obviously Lucy is amazing and brilliant, but the redhead who inspires me more is Carol Burnett. When I was a kid and watched her show, I thought she was the most tremendous character actor ever. I kinda wanted to be her. But it obviously wasn't because of the red hair.
As if being on one of the most popular television shows around didn't bring enough fame to their household, Preston is married to Michael Emerson who played Ben Linus on the very popular television show 'Lost'.  Despite the relatively short life on Hollywood marriages, Preston and Emerson have been going strong since meeting in 1994 after she saw him in a production of 'A Christmas Carol'.  Emerson's character on 'Lost' was very creepy but it is not the first time he has played such a role.  When asked if watching her husband on 'Lost' ever creeped her out, Preston says it was another role that managed to do that:
"Not that part so much as when he played William Hinks in The Practice. That was the first time he played a really diabolically horrible character who murdered women. At one point, when I was watching that show, I turned to him and said, "Don't you ever look at me like that."
He was definitely excellent in that role!  In a slightly weird twist, Preston actually portrayed Emerson's mother on 'Lost'.  She had made a joking comment to him that it would be funny if she played his mom during his flashback and Emerson's mentioned it to the producers.  Within a week she was filming the part. 
Last season Preston appeared on 'The Good Wife' as Chris Noth's attorney.  Preston had previously worked with Noth on 'Sex in the City' and she says she still gets recognized for that role.  In fact Sex in the City fans are really great because they even remember her character's name.  She jokes that her television wedding at The Plaza and wearing a Vera Wang gown upstaged her actual wedding. 
Preston recently directed a movie entitled 'That's What She Said' which she describes as:
"It's about two best friends. One of them is getting ready for a blind date, and they end up hooking up with this oddball boy-crazy young girl who they meet at a café. I like to call it a wo-mance instead of a bromance. We'd been trying to get it off the ground for several years, and we're hoping to ride the wave of success of Bridesmaids. It is sort of an East Village cousin to that film: It's grittier, edgier, but maintains that raunchy … it's a chick flick that's not for pussies. I don't know if you can't print that."
The movie stars Anne Heche and Alia Shawkat and no release date has been set.  To read the entire interview with Carrie Preston click here.
Source:  NYMag.com – True Blood's Carrie Preston on Ghosts, Her Favorite TV Redhead and Being Married to Lost's Ben
Photo Credit:  HBO, Inc.