Celebuzz had a chance to catch up with Carrie Preston about everything from her new independent film, what it's like to produce alongside Anne Heche, and the upcoming premier of True Blood.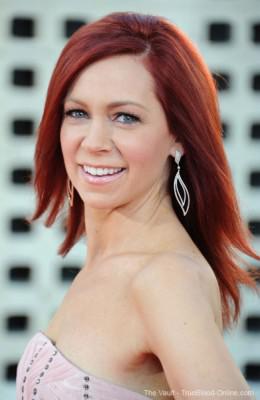 Your starring role of Arlene Fowler on True Blood s notorious for being sassy and full of charisma.  Does Arlene's bubbly persona ever rub off on you in real life, or vice versa?
It's always fun to go to work because I know that I get to put on that makeup, those nails, that bust-line and those heels and really transform into her.
I have a good time with her, I like how outspoken she is.  When I'm on set I feel like myself but a little bit of her definitely rubs off on me.  It is fun to be in the skin of someone you've been playing for four seasons which is something that I've never really had the luxury of doing before.
This seems like it's been an unbelievable summer for you, ending with the release of A Bag of Hammers. Are you satisfied with the way all of your projects are panning out this summer?
I'm very excited! It's wonderful when all the fruits of your labor start to flower, grow and get out into the world. These projects I've been working on have incubated for a long time so it's fun when they start seeing the light of day. In this case, I happen to have a bunch of fun things that are coming into fruition at the same time.
I have the premiere of True Blood followed by A Bag of Hammers. I also just directed a film that we just finished shooting so we are starting to submit it to festivals. Hopefully we'll get into some in the Fall, so it's a very exciting time.
Despite having a Golden Globe-nominated series coming out this month, you have had your hand on the other side of the camera, as a producer and director for the new film That's What She Said. Do you ever slow down or are you constantly either in front of or behind the camera?
I am one of those people that just prefers to be busy creatively. I don't have children so I do have more time to do things and I try to take advantage of that and in a way, creating a film from the ground up is kind of like having a child and raising it. That was really exciting for me for this particular project because I was trying to get off the ground for seven years and it was so nice to have it finally happen and I told myself if I didn't take the opportunity while I could I would regret it for the rest of my life.