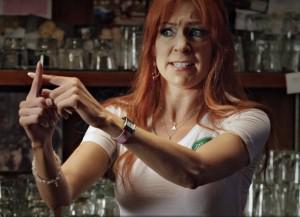 Carrie Preston's alter ego on True Blood, Arlene Fowler, knows a thing or two about taking food orders, southern hospitality, being a single mom, short shorts, and fake fingernails. However, the fiery red-head hasn't had the best of luck in the relationship department. Preston has admitted in the past that she didn't have a hard time morphing into the funny and spicey Arlene; that growing up in Georgia gave her all the background research she needed to bring Arlene to life. And True Blood isn't the only thing that seems to be working well for Preston. Daemon's TV sat down and talked with Preston about what season 4 will bring for Arlene and what life outside of True Blood looks like.
Now that we've got June in our sights, we all know that season 4 is that much closer to premiering. In our completely obsessive state of mind, we often forget that, for the True Blood cast, season 4 has been playing and replaying itself since November. We've seen some spoilers as to when season 4 supposedly picks up from where season 3 left off, but Preston isn't divulging any specific details:
"We're not allowed to talk about that, but I will say that the problems Arlene was having when we left her have only gotten bigger. She had just unsuccessfully tried to find a way to let the baby go using some witchcraft which was a pretty drastic choice on her part, but Arlene felt like she needed to address the problem. It's that the sins of the father might be visited upon this child that's inside of her. Things are pretty black and white with Arlene and in her mind she's carrying an evil baby. So when that didn't work it really did make things even more complicated for her, and frankly, scary for her. But I think she had to accept that the baby was definitely on board and seems to want to stay. I think the conflict in her is going to continue to grow."
Preston may not reveal any juicy spoilers, but she does give us a glimpse into what it's like for her to be one of the few humans living in the vast supernatural world that is in and around Bon Temps:
"…Well, sometimes I think all the supernaturals have more fun, but at the same time I think it's extremely important for the show to have the characters like Arlene and Terry and Hoyt and Jason even, who are a reminder that this is a real world and a present day world, albeit a fictitious world. It's contemporary. They are people and they're southern and they're small town and they're American. They're dealing with these previously inconceivable creatures that they're surrounded with. I think if the show didn't have the mortals it wouldn't be as effective because there would be nothing to contrast the supernaturals."
Arlene has certainly seen her fair share of supes, and was even smack dab in the middle of the very crazy supernatural world that Maryann the maenad introduced to Bon Temp residents in season 2. Season 3 brought werewolves to town, and in season 4, the witches will take flight. So, how will these new magical beings affect Arlene?
"She's going to be dealing with some things that she never expected, and actually, the audience hasn't seen yet on the show. So that's exciting. The show likes to keep upping the game which is what I think makes the show so creative and the writers so brilliant, that they continue to keep the audience on their toes. They keep throwing curveballs and Arlene is definitely dealing with one of those curveballs this season."
 At the end of the day, Preston gets to take the fake nails, the fake tan, the fake hair extensions, and the layers of make-up off and leave Arlene behind, either for a good night's sleep, or for one of the other projects she's dabbling in. Her recent film, Bag of Hammers, is doing well at film festivals; she found time to do a guest spot on CBS' The Good Wife; and she just finished directing her second feature film, a comedy called That's What She Said, which she's been working on for nearly seven years: 
"Anne Heche is the star as well Marcia DeBonis and Alia Shawkat who was on Arrested Development. It's a wonderful cast. It takes the chick flick genre and it mashes it with the balls to the wall silliness of a good bro-mance, but the girls come out on top. So it's really fun. It's three raunchy chicks and one disastrous day in New York City. A lot of stuff goes down, but it's ultimately a movie about friendship."
To read Daemon's TV interview with Preston in its entirety, please click here. Season 4 of True Blood premieres Sunday, June 26th at 9PM. 
Source: Daemon's TV - Exclusive: True Blood's Carrie Preston Interview
Photo Credit: Vampires.com