True Blood was represented by it's costume designer, Audrey Fisher at MAGIC Market Week last week.  The week is big business for international buyers, vendors and, most recently, bloggers. What is it like to attend the conference as a costume designer?
Ahead of her [email protected] panel discussion last Wednesday at 1 p.m., True Blood's Audrey Fisher was one of five famed costume designers who revealed their strategies for navigating the Las Vegas fashion trade show, and what works best for their beloved silver-screen characters.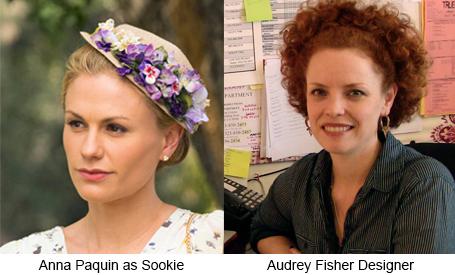 True Blood's Costume Designer, Audrey Fisher says:
I will be keeping her eye out for "vampire wear and small-town Louisiana wear — I don't have a lot of time, so I'm going to have to be ninja about it," she said, as she'll see longtime vendors she's pulled from before (Copperpeace and Alchemy are a couple of favorites) and watch out for what's new. She's especially looking for cool, computerized cuts of leather. "There's a major moto trend that's coming up, so I'm hoping I can fit that into the story somehow."
Yet Fisher can't actually be on the lookout for one-of-a-kind pieces.
"I have to have many multiples of each outfit, so sometimes it's hard for me to work with younger or newer designers because they might have only made one or two pieces of a certain jacket, and I usually need four to six of the same jacket for one character. I try to find interesting young vendors and work with them."
Read our interview with Audrey Fisher from 2012.
source: hollywoodreporter.com