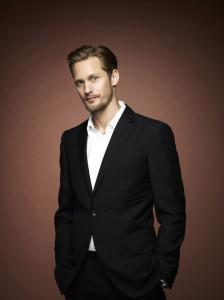 True Blood's Alexander Skarsgard (Eric Northman) has been keeping busy with several films during his hiatuses from True Blood.  Next up is the remake of 'Straw Dogs', which hits theaters September 16th and he has been busy promoting the flick.  Skarsgard recently spoke with USA Today about what we can expect in the movie, and what his fans shouldn't expect from him.
'Straw Dogs' is a remake of the 1971 movie which starred Dustin Hoffman and centers around married couple Amy (Kate Bosworth) and David (James Marsden) who move to her home town in the south, where they clash with Amy's ex-boyfriend Charlie (Skarsgard).  The tension continues to escalate until the violent ending which contains a controversial rape scene.  According to Skarsgard, the tension is all about territory:
"It's about territory.  (Amy) shows up with a writer from Hollywood who's completely different, completely cerebral and not a real man in Charlie's eyes."
Director Rod Lurie compares Skarsgard to Brad Pitt in Thelma and Louise and says that even though the ending is violent,  Skarsgard makes you understand what Amy saw in Charlie in the first place.  Lurie goes on to talk about the first time he met Skarsgard saying he came in and looked the complete opposite of what the role called for.  Lurie told him that he would have to bulk up for the role and was surprised at how well Skarsgard accomplished that.  He may have been surprised but Skarsgard's fans are not and that is one thing that still baffles him.  He says he does not get the fascination with him but he insists on living his life.  Skarsgard is generous with his fans and will sign autographs and take pictures but one thing he will not do is bite them.  He does not want to be locked in to biting fans for the next 30 years. 
The rape scene in the original movie cause a lot of controversy and that scene has been brought over to the remake.  Although we see a less than nice side of Skarsgard when he is playing Eric Northman, playing a rapist is a totally different experience.  Skarsgard defends his character to an extent saying that to Charlie its not a rape but rather an act of love. 
After 'Straw Dogs', his film 'Melancholia' will be hitting theaters in November and his alien invasion movie 'Battleship' will hit theaters next year. To read the full interview with Alexander, click here.
Source:  USAToday.com – 'Blood' Star Alexander Skarsgard shows true range in films
Photo Credit: HBO, Inc.