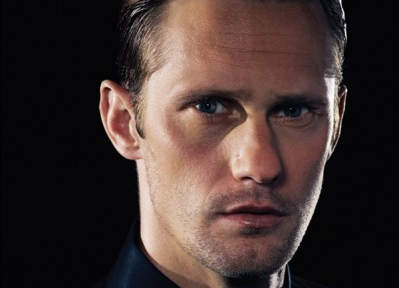 True Blood's Alexander Skarsgård may not have started out as a leading character on the HBO vampire drama that made him famous, but he's certainly become one of the show's favorite (and most Googled) characters. Despite the fact that Alex's  "It" factor has seemingly exploded since moving to the States to don Eric Northman's fangs, he's incredibly down to Earth, gracious, and happy to show you his funny-side. The grateful actor recently sat down with BlackBook Magazine and discussed important life matters, such as heartbreak, old friends, paparazzi, and never letting go of his Swedish roots.
Alex's new film, Straw Dogs, hits theaters later this month and in it, he plays Charlie, a beer chugging savage that terrorizes his high school sweetheart, Amy (Kate Bosworth), after she moves back to town with her new husband, David (James Marsden). What ensues is Charlie and David constantly trying to one up one another, inevitably leading to some very violent, scenes. The movie is not for the faint of heart. Yet, as brutal as the subject matter was, Alex was caring and gentlemanly as soon as "cut!" was called:
"There were times when Alex really did beat the shit out of me," says Marsden, "There was a moment when he launched me into a wall, smacked me right in the face, and pressed a gun into my forehead. He pressed it so hard you could see the ring of the barrel on my forehead afterward. But the second they cut the scene, he'd go right back to his compassionate, considerate self: 'Are you okay, Jimmy? Everything fine?'"
Through all the heavy material on-set, Alex and co-star Kate Bosworth bonded on a more personal level off-screen, and dated for two years before splitting in July. Alex is very protective of his privacy and has never really opened up about his romance with the blond beauty, but he did open up about suffering heartbreak at the hands of an old girlfriend before he moved to New York in 1997:
"This was before Skype, and it was really expensive to call," he says. "She broke up with me after six months and I was devastated, very naïve—not old and bitter like I am now. After she dumped me, I was like, I'm coming home, baby! Please take me back! I rode into town on my white stallion thinking I was saving the most beautiful relationship in the history of mankind. She dumped me again a couple months later."
Now that Alex has a more recognizable face around Hollywood, something that he's had a difficult time getting used to are the cameras that seemingly pop up everywhere. The paparazzi don't usually make best friends, and for Alex, he'd rather not have to deal with them (well, minus the "Paparazzi" video he did with Lady Gaga):
"They just want their money. I'll never get used to the fact that they camp out to get a picture of me eating a sandwich. It's strange to me, and I want it to be strange—I don't ever want to feel like that's normal."
What seems to be normal these days for Alex is wearing fangs and having blood splattered somewhere on his body or clothes. And at the time of his interview with BlackBook, he was wrapping up a few final scenes for season 4 of True Blood, one of which we can anticipate seeing either tonight or during the season finale next Sunday. According to co-star Stephen Moyer (Bill Compton), Alex will rip "somebody's heart out and then drinks blood from the aorta like it's a straw." Then, according to Alex:
"When I'm finished, I just look into the camera and burp. It's so gross."
While Alex is currently busy filming a new movie, What Maisie Knew, in New York, he still manages to get home to Sweden as often as possible to visit his friends and family. His friends, he says, don't care about Alex the actor, and consistently treat him as they have since they were young kids running around Södermalm:
"Not a single one of them is impressed by me—they're happy for me, but they don't give a f–k about that shit. One guy's a salesman, a couple others are unemployed, and they could care less that they're hanging out with a 'celebrity… I'm so f–king balanced it's ridiculous!"
Tune in tonight to see what craziness Alex will get up to in True Blood's Soul of Fire episode, and check out the pictures below from his photo shoot with BlackBook.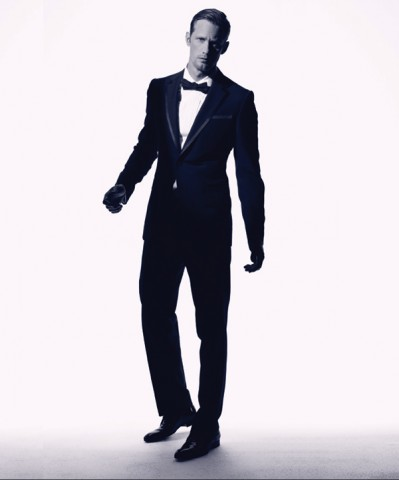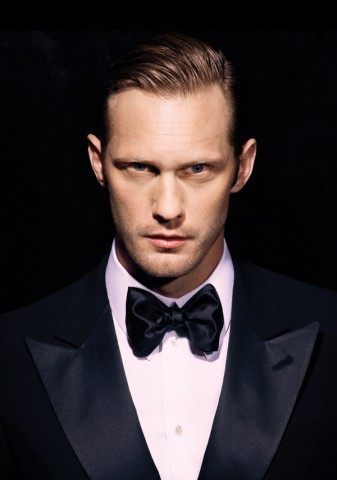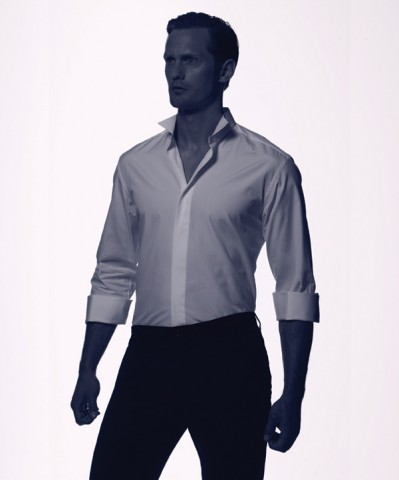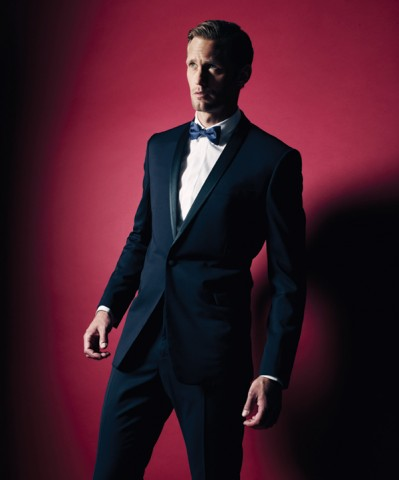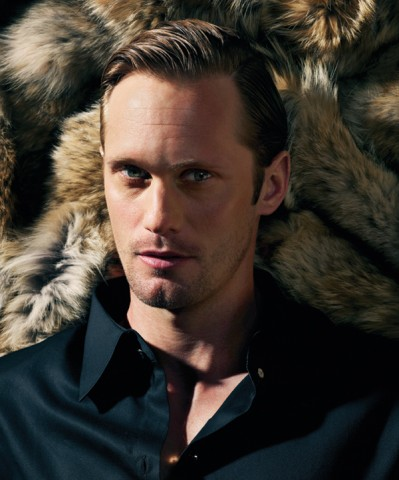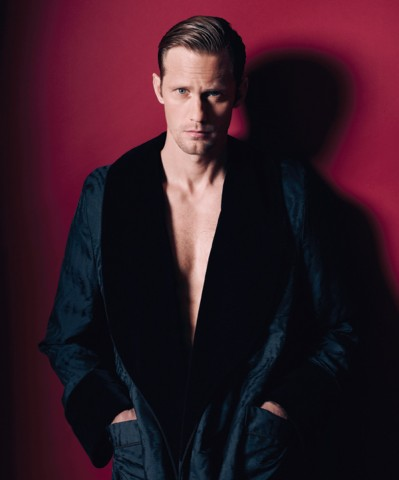 Source: BlackBook Magazine – First a Vampire, Now a Leading Man – Alexander Skarsgård Can't Be Tamed
Photo Credit: BlackBook Magazine