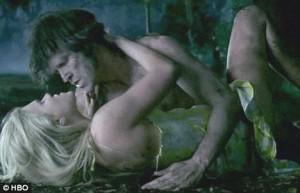 True Blood's creator, Alan Ball, recently sat down with the New York Times to talk about the show, his future with the show, and all those crazy sex scenes. We've definitely heard (and talked about) the gasp-worthy news as of late surrounding Ball's opinion as to whether the show can go on without him, which we admit, is hard to imagine! Partly because who else could make the sexy side of True Blood so incredibly fantastic? Ball has received his share of negative feedback from critics regarding all the sex, and how it's a bit over the top, but he doesn't let the negativity bother him. Instead, he delves deeper into what sex really means (to him), and why he adds so much of it to the show:
"My thinking has always been less about something that exists outside of nature than something that's a deeper, more profound manifestation of nature, that perhaps humans, with our years of cerebral, self-reflection have gotten away from. Of course sex is magical. It's a force that's bigger than us. In fact, early on in the development process, I was called upon to give a one-sentence thematic pitch to the higher-ups at HBO as to what the show was about, and I thought, "Oh, dear God, what am I going to say?" I said, "Well, ultimately at its heart, it's about the terrors of intimacy." Which is an answer I just pulled totally out of [nowhere] at that moment. But I do think that actually, there is some truth to that. That is kind of what it's about."
Season 4 premieres this Sunday, June 26th, at 9PM EST.
Source: Examiner - 'True Blood': Alan Ball explains role of sex in series
Photo Credit: HBO