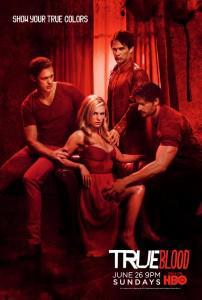 Bouncing back from a holiday weekend lull, the True Blood season finale was up 0.4 ratings point vs. last Sunday to a more typical 2.8 adults 18-49 rating to lead all cable shows on Sunday night.
The fourth-season closer of True Blood delivered 6.2 million viewers total for the night (5.1 million for its first airing, plus the repeat) — down slightly this year after rising last summer.
Overall, though, Blood did well this season, hitting a series high with one episode and maintaining its average. Curb Your Enthusiasm benefited by being paired with True Blood this summer (an odd coupling, but the ratings didn't mind) — and ended with a total of 2.4 million for the night. That's Curb's most-watched finale since 2004.
source: tvbythenumbers.zap2it.com