True Blood has been nominated for seven 2011 Scream Awards.  Anna Paquin was also nominated for her cameo appearance in Scream 4.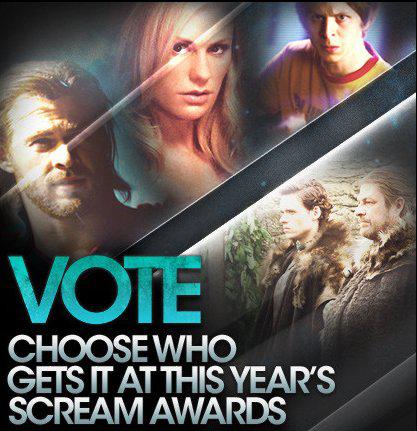 They categories where True Blood and it's actors were nominated are as follows:
Ultimate Scream
Black Swan
Captain America: The First Avenger
Game of Thrones
Harry Potter and the Deathly Hollows part 2
Scott Pilgrim vs. The World
Super 8
Thor
True Blood
The Walking Dead
X-Men: First Class
Best TV Show
Dr. Who
Game of Thrones
Fringe
True Blood
Best Ensemble
Game of Thrones
Harry Potter and the Deathly Hallows – Part 2
Red
True Blood
X-Men: First Class
Best Horror Actress -
Sarah Wayne Callies
Anna Paquin
Neve Campbell
Chloe Grace Moretz
Rose Byrne
Best Horror Actor -
Michael C. Hall
Andrew Lincoln
Stephen Moyer
Alexander Skarsgård
Patrick Wilson
Best Breakout Performance -
Jon Bernthal
Michael Fassbender
Chris Hemsworth
Tom Hiddleston
Joe Manganiello
Best Cameo
Buzz Aldrin
Anna Paquin and Kristin Bell
Richard Dreyfuss
Hugh Jackman
Keith Richards
Voting Begins Today, September 7 At Scream.Spike.com
Sixth Annual Global Event Honoring The Year's Best In The Sci-Fi, Fantasy,Horror And Comic Book Genres Tapes Saturday, October 15 At The Universal Studios Lot In Los Angeles
"SCREAM Awards 2011" Nominees Chosen By Advisory Board Of Hollywood And Genre Leaders Including Damon Lindelof, Eli Roth, George A. Romero, John Carpenter, Rob Zombie, Robert Rodriguez, Roland Emmerich,
Tim Burton, Wes Craven And Many More
This year's show will also continue the tradition of featuring exclusive World Premieres from some of the most anticipated movies of 2012. The two-hour event will premiere on Spike TV on Tuesday, October 18 (9:00–11:00 PM, ET/PT). Presenters will be announced shortly.
source: spike.com