As most loyal Truebies know, Kristin Bauer van Straten is a huge supporter of animal rights. She is teaming up with fellow True Blood stars Todd Lowe (Terry Bellefleur) and Tara Buck (Ginger) to promote A Night of True Blood Music benefiting the Amanda Foundation. This event will feature music from Kristin's husband, Abri van Straten, Todd Lowe's band LA Hootenanny, and Chris Pierce, and proceeds will benefit the Amanda Foundation, which helps shelter animals find homes as well as spaying, neutering, and vaccinating pets.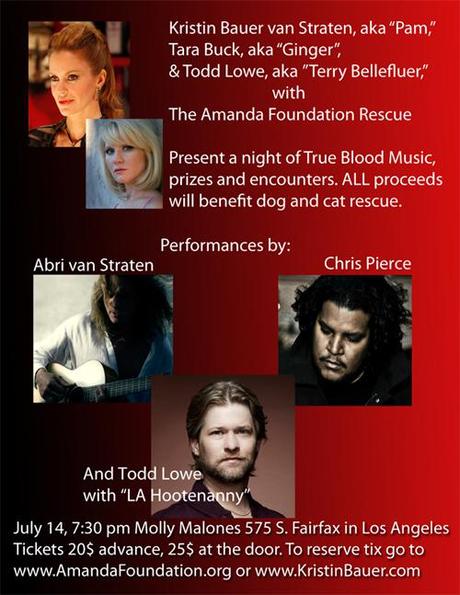 I'm sure that I'm not the only one excited for this event, since it's going to be so much fun and helps such a wonderful cause. This also isn't the first time that Kristin has been involved in charity events for The Amanda Foundation, as she was a part of Patterns for Paws event as well as the True Blood Hounds event. Both of those events helped a lot of animals, and I'm sure this one will too.
If you happen to live in the LA area, be sure to get your tickets from the Amanda Foundation or KristinBauer.com! Just be sure to keep in mind that there is limited space in the venue, and you must be 21 to get in.
SOURCE: The Amanda Foundation
(Image Credit: The Amanda Foundation)