Have you ever wondered where all the lovely jewelry that Pam wears on True Blood comes from?
In her capacity as True Blood's Costume Designer, Audrey Fisher combs all over searching out great looks for the cast on True Blood and she found some great jewelry made by a friend.
Marianna Harutunian is a Los Angeles based Jewelry designer, who works primarily with Swarovski Crystals and 24k gold, silver plated metals.
Every season of True Blood Marianna sits down with Audrey Fisher to discuss what she can design for the show. She has primarily designed pieces for Kristin Bauer Van Straten as Pam De Beaufort, and the Fairies, namely Queen Mab from Season 4 premiere, and the Fairy with Sheriff Andy, in which he is captivated with at the end of the Season 4 finale.
Kristin Bauer van Straten says her favorite necklace is the black choker from Season 1 and Season 3. Below are a few designs by Marianna that were used on the show: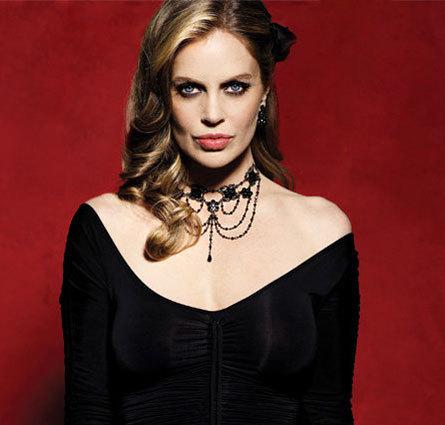 We asked Marianna to answer a few questions for us about her experience of working on the show and with Audrey Fisher and Kristin Bauer van Straten:
Can you tell us a bit about how your collaboration with True Blood came about?
My collaboration with True Blood came about through knowing the costume designer Audrey Fisher. Audrey Fisher was a customer of mine, when I first opened my shop in 1999/2000. Audrey came to me, when she got the position on True Blood, wanting pieces for the show, and the rest is history. Audrey is the reason I have become apart of the True Blood family in terms of adorning some of the shows characters with my handmade jewelry. I owe so much to this talented, beautiful, and lovely lady.

Tell us about how the design process works with Audrey Fisher?
The designing process usually starts off with my having a meeting with Audrey, and her coming to me with what characters she needs pieces for. We discuss what the look and feel of the piece should be, and I then proceed to design custom samples for Audrey. Then the samples are refined till the piece is perfect and meets the needs for the character or characters on True Blood.

Is there more we can expect expect from you for season 5?
You can expect new pieces on "Pam De Beaufort" played by Kristin Bauer. I love making custom pieces for the character of Pam. The necklace from Season 1 and Season 3, Kristin has told me are her favorite pieces of mine. You can also expect new pieces for the fairies, other new characters, and a main character of whom I've never designed for, but can't reveal who as of yet. All the new pieces I will comment on as they appear in the season via my Twitter.
Marianna will have new pieces on Pam, and other characters in Season 5 and True Blood Fans can buy the jewelry that she has made for the show.
She has her work shown and available in many places online. Go on over to the links below to see and purchase her work:
on her Etsy.com shop. http://www.etsy.com/shop/MariannaHarutunian
follow her on Twitter for updates on her new pieces seen on True Blood's new season: @Ilovemariannas
or find her on Facebook: http://www.facebook.com/ilovemariannas
And her web site is: www.ilovemariannas.com