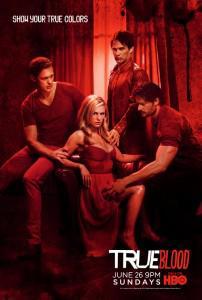 True Blood was all but snubbed by the Emmy Awards this year, but they sure don't lack kudos for being influential with their fans. Online influence measurement company Klout released a list of the "Top Ten Most Influential TV Shows", and True Blood grabbed the #1 spot.
True Blood and the other shows on the top ten list have done a great job of engaging their fans: not only on the TV screen, but on your computer, tablet, and mobile phone.
The #2 show is Lifetime's Project Runway, followed by ABC Family's Pretty Little Liars, Comedy Central'sThe Daily Show and Fox's Glee.
source: corp.klout.com