It is one of the most familiar images in 20th century American art, and one of the most parodied artworks within American popular culture and True Blood has a parody of it, "American Gothic" by Grant Wood in the upcoming issue of Entertainment Weekly Magazine, due out on the stands June 24. And, it doesn't matter what team you're on, EW has published three separate collectible covers to satiate those who prefer Alexander Skarsgård, Stephen Moyer or Joe Manganiello.
Check out Sookie's eyes in each of the images below, so priceless!  Why is she looking differently in the cover with Bill, we wonder? And, the three guys look so funny; notice it's Joe who is shirtless and doesn't wear glasses.
Click on the images for a larger view.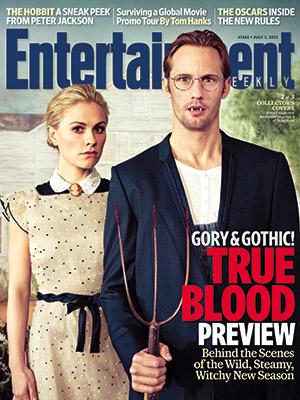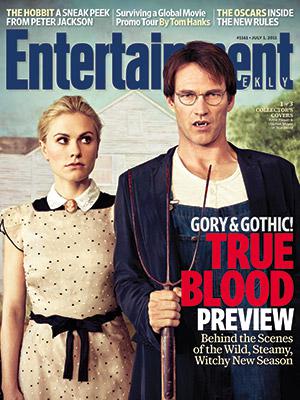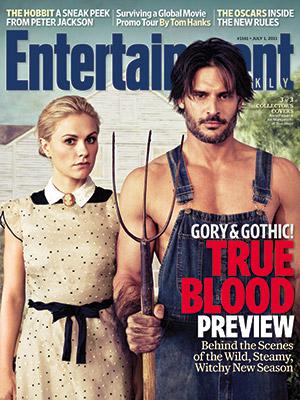 Playing the smoking hot vampire Eric Northman is humbling, to say the least, for Swedish actor Alexander Skarsgård. So to say that he's used to the adoration from female fans of True Blood, the subject of this week's Entertainment Weekly cover story, would be a bit of an understatement.
"I'll never get used to that," Skarsgard said of his googly-eyed fanbase. "It's just very, very humbling and flattering. The character Eric means so much to me and I'm having so much fun playing him. Of course it means a lot when you meet fans and you can actually tell there are people out there who really do care about the character. It means something to you, then. That's kind of why you do this whole thing."
Eric fans could have plenty to salivate over this season, which begins June 26 on HBO. This year, True Blood is inspired by book four of the Stackhouse series, Dead to the World, which features a steamy shower scene between Sookie and the tall, light and handsome vamp. Unfortunately, Skargard isn't in the mood to kiss and tell. He will say, however, that sex this year is, um, a little more down to earth. "I did some crazy stuff last year. I almost had sex with a Greek man and I was covered in his goo. Everything from here on is pretty childish. Everything's quite innocent."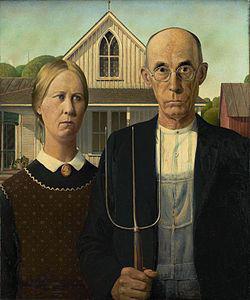 Here's information about the original painting for those of you interested in an art lesson. American Gothic is a painting by Grant Wood, in the collection of the Art Institute of Chicago.
Wood's inspiration came from a cottage designed in the Gothic Revival style with a distinctive upper window[1] and a decision to paint the house along with "the kind of people I fancied should live in that house."[2] The painting shows a farmer standing beside his spinster daughter (not his wife, as so many parodies and references assume).[3] The figures were modeled by the artist's dentist and sister. The woman is dressed in a colonial print apron mimicking 19th century Americana and the couple are in the traditional roles of men and women, the man's pitchfork symbolizing hard labor, and the flowers over the woman's right shoulder suggesting domesticity.
For lots more, pick up the new issue of Entertainment Weekly, on stands Friday, June 24.
source: popwatch.ew.com
source: wikipedia.org