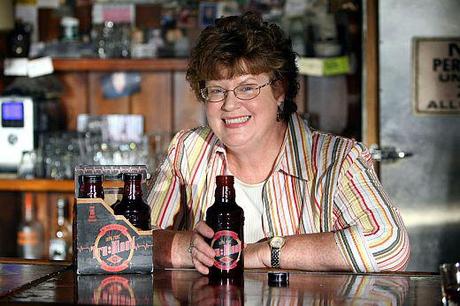 We here at True Blood Fan Source were so excited to have the opportunity to do a question and answer with the incredible Charlaine Harris, author of the Southern Vampire Mysteries series on which HBO's True Blood is based.  Ms. Harris has been busy promoting the 11th book in the series, 'Dead Reckoning', and we are so greatful that she took time out of her busy schedule to answer some questions for us.  Below is the list of questions we asked her along with her answers. 
How did you come up with the cluviel dor, and what's the significance behind its name (did you base it on anything in the real world?)?
I made up the term "cluviel dor." I needed a fairy object with a mysterious name, and that's what I came up with. In appearance . . . well, let's just say my powder compact looks a lot like a cluviel dor. Though it's not nearly as magical . . .
We understand the series may be coming to an end after book 13 is that still the plan?
Yes, that's the plan. I love Sookie and don't want to keep writing about her when the thrill is gone for me.
You've mentioned that you knew very early on how the series would end – is this early ending you envisioned still the one you'll stick with once the series wraps up? Or has this ending changed at all as you've written more books and plot twists?
I'm sticking with my original ending.
Where did the idea of "Bubba" come from?
It came to me in a flash. If Bubba was a vampire that would explain everything – the sightings! I was actually thinking of the scene in "Men in Black" where Will Smith visits the MIB headquarters for the first time and sees all the celebrities on the big screen, the ones who are actually aliens.
Will we see the faery Nial hooked Sookie up with in the short story, Giftwrap, in either of the remaining two books in the Sookie series?
I haven't planned on including Preston in either of the remaining books, but you never know!
What was it like for you to see the world and characters you created come to life on screen for the first time in True Blood?
It was very exciting and not a little thrilling to see Alan's vision of my books.
Was it hard for you to hand the creative control of your stories over to Alan Ball?
No. I'm not a big control person, I guess, and I had and have so much faith in him.
Does Alan ever consult you about storyline or does he run the show completely independent of you?
He runs the show independently, which I think is only right. He doesn't tell me how to write the books . . . I don't tell him how to run the show.
When you write the books you must visualize your characters and really bring them to life in your mind – when you look at the cast of True Blood which cast member or members do you find most resemble that picture you had in your mind when creating them?
Chris Bauer, who plays Andy, is really like Andy in my head: Kristin Bauer van Straten is very much like Pam.
Will you be doing anymore guest appearances on True Blood?
I'd be glad to if I happen to be out in L.A. when they're shooting a scene I could reasonably be in.
Has there been any more news on the Harper Connelly series coming to television?
Though that deal is not dead, it seems it's a coma for now. I'm hopeful something can be done with those books, because it would be great to see them on the screen.
What can we expect to see next from you – will you start a new series after Sookie is done?
I certainly will, and I'm very excited about the prospect. 

We will never look at our make-up compacts again without thinking of Sookie!  The fact that Ms. Harris decided 12 books ago how this series was going to end and is sticking to that now gives us a strong idea that the ending will be fantastic.  When we were drafting these questions we had agreed that the casting choice we think represents the book character the most was Kristin Bauer van Straten's Pam and we love that Charlaine feels this way too.  
While we are sad to see the Sookie books come to an end we are most definitely excited to see what Charlaine has in store for us next. 
Again we would like to thank Ms. Harris for taking the time to answer our questions and we would also like to thank Rosanne Romanello at the Penguin Group USA for arranging this for us.
Photo Credit:  Sigrid Estrada/CharlaineHarris.com