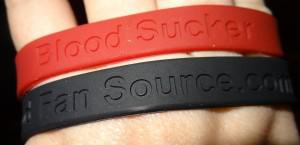 Last Monday I announced that True Blood Fan Source would be auctioning off various items including those from Comic Con 2012 and True Blood. This week I have re-listed most of the items and the list of what is still available is as follows:
Comic Con 2012 True Blood Panel Complete Swag Bag with Rare Pam Trading Card Signed by Kristin Bauer
Comic Con 2012 Fringe Fedora
Comic Con 2011/2012 Exclusive Oversized Totes: Superman: Man of Steel, Big Bang Theory, Thundercats
Comic Con 2011 Mixed True Blood/Game of Thrones Swag Bag with Entertainment Weekly Collectible Cover of Kristin
Juicy Couture Rainbow Canvas Bow Tote
Pan Am Explorer Bag
The items are available for auction as well as "Buy it Now" options with prices ranging between $20-$70. I have also brought back the True Blood Fan Source
"Blood Sucker" bracelets
and listed them on eBay with everything else. They are available in red or black for $6 each "Buy it Now" All of the money earned from these sales will contribute to  
Kristin Bauer van Straten's Out for Africa Kickstarter
. For photos of the items, see the original post here.
To view items and bid or buy please click here.
Image Credit: True Blood Fan Source