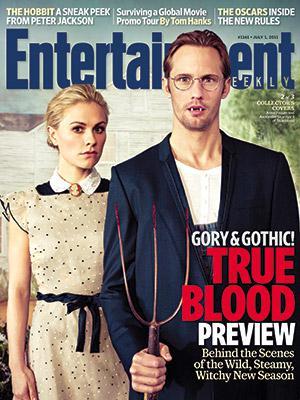 The Best Covers of the Year Contest of Amazon.com honors the most memorable, compelling, and iconic covers of 2011. This year, by voting in the Best Magazine Covers Contest, customers will decide who wins the best cover award in each of ten categories, as well as who will win the ultimate Reader's Choice Cover of the Year award.
True Blood received a nomination for one of the July Entertainment Weekly covers inspired by the Grant Wood painting "American Gothic": The Anna/Alexander cover or is it Sookie and Eric?
If you are an Amazon customer you can click the link below to cast your vote and be entered in the sweepstakes to win a Kindle Fire. Make sure to check out the rules on the Amazon website.
Since this cover came in 3 different versions it's only logic that not everybody will consider this the best of the 3 covers, but since our readers are all True Blood fans and happy that a nomination was received, I don't expect any negativity in the comments to this post.