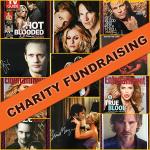 During the last season of True Blood we cleaned out our closet and basically auctioned off all signed items that we had left for charity. We'd like to thank everybody who participated and placed a bid and won a unique signed True Blood item.
We are now happy to report that that all the auction items have been sent to and received by the buyers.  We have done the math to determine how much, less eBay and PayPal fees, would be available to our charities and we can report that:
The total amount raised for charity during the summer of 2014 is: $3,528.
We divided the total between 3 of our favorite charitable organizations and the Choroideremia Research Foundation, the Amanda Foundation and the Silas Pullen Fund have each received a donation of $1,176.
The Choroideremia Foundation is working to support the research being done to find a cure for the disease that our good friend EJ Scott, boyfriend of True Blood actress Deborah Ann Woll, suffers from.
The Amanda Foundation is a no kill animal shelter in Los Angeles providing safety and love to many homeless cats and dogs.
The Silas Pullen Fund is a fund set up in the memory of Silas Pullen, who died aged 11 from an aggressive brain tumour. This fund is an effort to raise money for The Brain Tumour Charity. The Brain Tumour Charity provide support services to those affected; fund cutting edge research to find a cure; and raise awareness of this devastating disease.
Lynn, co-admin of The Vault and AllStephenMoyer.com, stopped by the Amanda Foundation this week to personally hand them a check with the donation. Teri and Tracy of the foundation were thrilled to receive the donation and so were the 6 weeks old puppies Ryan and Reese, who will be available for adoption soon.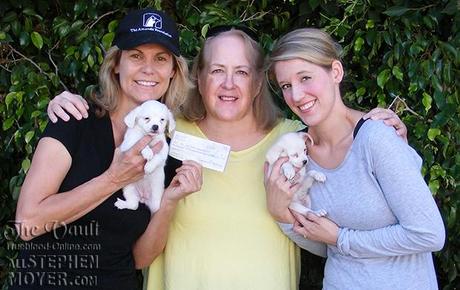 Teri, Lynn and Tracy
The very first charity fundraiser we did back in 2009 was for the Choroideremia Research Foundation and of course this wonderful organization had to be included in what probably was our last True Blood fundraiser. We informed Cory MacDonald of the foundation of the donation we made and received the following email from him.
Hello ladies! :)
You know, I love it when my day begins with emails like these.. :) Thank you, your helpers and all the people who visited your site and helped support us over these years! I cannot begin to describe how much this has meant, not only in terms of raising money, but in raising awareness, extending our network and helping to push us forward towards our goal! We truly would not be where we are today without your help! And where is that?

I was part of a small group of about 8 people that helped found the CRF back in 2000. Back then, there was literally no research being conducted on CHM and the fate of every "CHMer" was best summed up by a doctor who said: "You have Choroideremia. There is no treatment, no cure and no prospect of one. You're going to go blind so start preparing now."

Fourteen years later, we are two years into gene therapy trials in the UK, with similar trials expected to begin here in the states and in Canada by the end of the year. If successful, this therapy will halt the progression towards blindness in its' tracks! In addition, we are funding studies into replacement therapies and possible pharmaceutical treatments. In the world of research, these advances have come at a speed greater than any vampire could ever hope to move! :)

I was diagnosed in 1968. From that point until just a couple of years ago, the future for me was one of oncoming darkness. Due to YOU and your site visitors, my potential future has changed. Now, I have a chance to continue watching my grandchildren grow. It could not have been done without you, and
for that, you have my eternal thanks.

Because of you, I will one day see stars in the night sky,
Cory

Cory MacDonald, Operations Manager
Choroideremia Research Foundation, Inc.
Web: www.CureCHM.org