In this week's TV Guide, three of the True Blood cast were featured, Joe Manganiello, Alexandra Breckenridge and Melissa Rauch.
Click on the images for a larger view and open in new tab or window to see full size and read the article.

Joe Manganiello is featured for the purpose of  highlighting his guest shot in "Two and a Half Men,"  which airs tomorrow night (Oct. 24). Joe mentions that one of the things he didn't have to do in the part was take off his shirt., in fact he says in the article,  "I have several layers on, which is a new thing for me."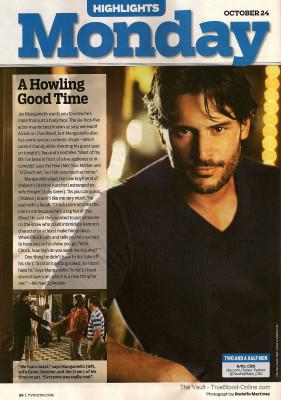 Alexandra Breckenridge, who played Katie on True Blood last season is now in "American Horror Story."  Unlike Joe, Alexandra has to wear a "skimpy outfit" in the show and she says, "I do feel a little exposed sometimes, but it helps me get into character because it's such a tiny outfit and it's so blatantly sexual, I put it on with the heels and I instantly fall into character."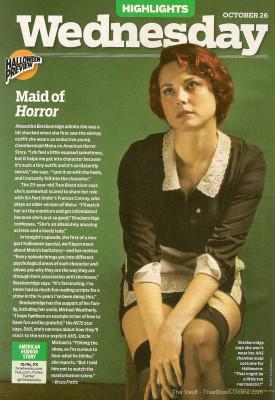 Everyone remembers Melissa Rauch because of the "biscuits" her character, Summer made for Hoyt and how she tried to get him to walk down the aisle during Season 3. Melissa is featured for her role in "The Big Bang Theory." She's now a regular on the show playing a microbiologist with a Ph.D.  That sure is a huge difference from her role in True Blood.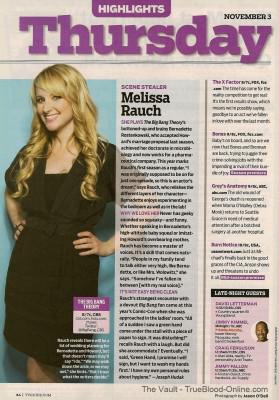 source: TV Guide
Thanks to ThelLou for the scans.