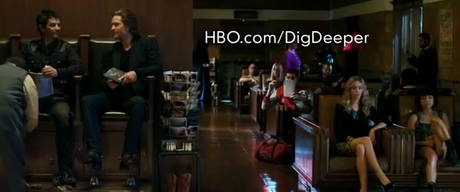 True Blood has been nominated for a few Clio Awards! The Clio awards are an annual celebration of the best advertising campaigns during the year. And this year, HBO's True Blood has made the award's short list in several categories!
Remember the True Blood Dig Deeper video and game that helped promote True Blood the Complete Third Season on DVD? You know the one with all of the references to season 3 in it, including an appearence by Franklin Mott (James Frain)? If you don't, watch the video below:
The video and interactive game that allowed fans to find all of the references and win prizes was designed by the folks at BBDO Advertising in New York City. The agency, who is referenced in AMC's Mad Men occasionally, has been recognized in three categories for this campaign in the Clios!
It is nominated for Content and Contact, Facebook Integrated Media, and Interactive .
The awards will be held in New York City on May 15th.
Congratulations to HBO, True Blood, and BBDO! We hope you win!
Sources: Clio Awards.com- "Catalog 2012: Shortlist"
Video/Image Credits: HBO, Inc.